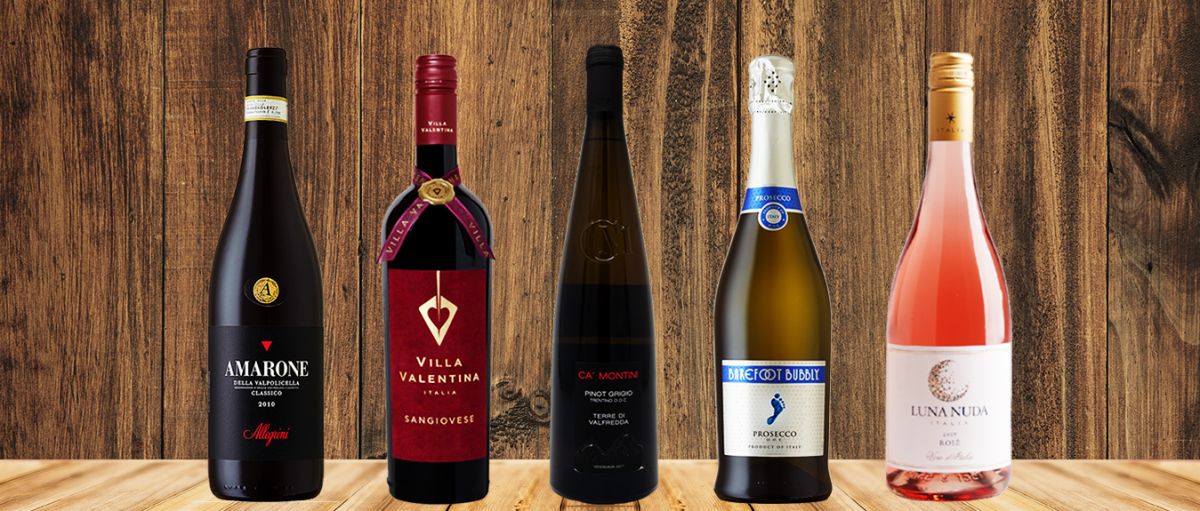 Top 10 Italian Wines You Shouldn`t Miss in 2020
01/01/2020 Here is the list of top 10 wines from the most popular and the world`s largest wine producer, Italy.
Italy is the world's largest producer of wine. It is also home to some of the oldest wine-producing regions. It contributes about 45–50 million hl per year in global wine production and is ranked one-fourth for global wine production. Italians rank fifth in the world wine consumption list by volume with 42 litres per capita consumption.
[[relatedPurchasesItems-44]]
Here are some Italian wines that you shouldn't miss in 2020. If you are a bar or restaurant owner, or a retailer, you should definitely stock these wines for the upcoming holiday season.
Luna Nuda Rosé

The Luna Nuda 2017 Rosé is bright and lively displaying a brilliant pink colour in the glass. This vintage is primarily made of Montepulciano which is an Italian grape variety that is very concentrated in colour. Fruit for the Luna Nuda Rosé guarantees structure and alluring, fruity aromatics while maintaining freshness and acidity in the finish. Lunda Nuda Rosa has aromas of strawberry bouquets and floral notes which are followed by subtle citrus on the palate. Luna Nuda Rosé can be paired with bruschetta topped with prosciutto, ricotta and arugula.

Lignum

Lignum is a premium and intense red wine, with balanced tannins and elegant body. As it is an Italian blend of shiraz, merlot and cabernet sauvignon from Sicily, lignum is rich and smooth on the palate, with jammy ripe cherry, a hint of dark chocolate and notes of wood. Lignum is presented in a conical bordelaise bottle, embellished with an authentic and innovative wood label, decorated with cutouts which replicate the wood grain. The label of lignum also presents a tactile element that reinforces the natural aspect of the wine.
Click here
to know tips & tricks about how to become the successful wine sales reps & what they do.
Looking to know how to beat your holiday sales record?
Click here
980 AD

980 AD is a very intense, deep ruby red coloured wine. This wine is rich in its concentration of red and black fruit including cherries, raspberries, blueberries, cassis and wild forest fruits. The bouquet is a complexity of flavours and tastes with blackberries, black pepper, vanilla, liquorice, rosemary and Mediterranean forest. The palate is elegant, fresh, round and fruity, with notes of spices and outstanding tannins with long persistence.

Barbera D' Alba Superiore DEMARIA

Barbera is the wine that represents the tough, headstrong, quietly dogged, strong but discrete character of the Piedmont winegrower. This wine is the favourite of the farm labourer and has traditionally been the common wine for everyday consumption.

Amarone VILLA CAPLET

Amarone VILLA CAPLET is an extremely deep blood-red/black wine. It has an extraordinarily complex vinous bouquet laced with stewed cherries. It is made up of 40% Corvina – 30% Rondinella – 15% Molinara – 10% Negrara – 5% Croatina. This wine is fermented in stainless steel casks, after the drying process for at least 1 year in big oak barrels.

Ca' Montini

Ca' Montini is a welcome surprise from the innocuous, uninteresting Pinot Grigio so often found in the mainstream market. The wine is proof positive that with discerning site selection, meticulous vineyard management and world-class winemaking, Trentino can produce world-class wines. The Terre di Valfredda vineyard which is protected by the surrounding mountains was selected for its perfect east/west exposure and "Pergola Trentina" trellising system to ensure ideal ripening conditions.

Villa Valentina Sangiovese

Villa Valentina Sangiovese organic wine comes from the finest vineyards in Apulia. It is entirely made with Sangiovese grapes, which are hand-picked and cautiously selected. It contains 13% ABV. It pairs well with rich meats and tomato-based dishes, such as lasagna, pasta Bolognese and pizza

Saletta Giulia

Saletta Giulia opens with notes of spice and toasted oak fused with aromas of berry fruit, liquorice and violets. The flavours of Saletta Giulia are full and supple with a sweet aftertaste of ripe red berry fruit. This wine is an elegant blend of Cabernet Sauvignon and Cabernet Franc that boasts a notable persistence and a pleasant finish, characterized by notes of dark chocolate and tobacco. The 20-month barrel ageing lends the Saletta Giulia its unique structure and distinct character.

Allegrini

With more than six generations of winegrowing tradition, Allegrini Wine is the most-awarded winery in the Veneto and the benchmark for Amarone. The Allegrini family's innovations in appassimento winemaking have made the estate's classic Amarone wines and Valpolicella wines exemplars of excellence, while their emphasis on single vineyard expressions of local grape varieties has drawn renewed interest in the Veneto.

Barefoot Bubbly

Barefoot Bubbly Prosecco is a Crisp and inviting, Barefoot Bubbly Prosecco blends juicy apples, sweet peaches pears to create a vibrant medley in every sip. This wine is finished with hints of zesty lemon and smooth honeysuckle, our rich Bubbly Prosecco is the perfect pairing for fresh fruit, hors-d'oeuvres, and spicy dishes.
Enter your brands now and get in front of USA's top buyers. Get your brands rated by Quality, Value and Package.