Q&A with a Wine Buying Expert: Charles Curtis MW
12/08/2019 The Biggest Challenge for Charles is Sourcing the Perfect Wine in Adequate Quantity in the Reasonable Prices.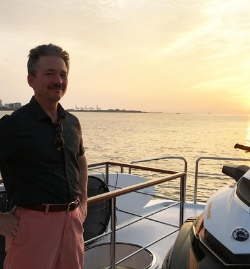 Charles Curtis is a Master of Wine and the founder of WineAlpha. It's a fine wine advisory serving private, trade and institutional clients with an interest in the market for fine and rare wine. He also works as a wine and spirits judge and has been a featured speaker at dozens of wine and food festivals over the years.
Recently he appeared in the judging panel of 2018 USA Wine Ratings. In an interview with UWR, he spoke about the current wine trends, challenges faced by a wine buyer and how he buys wine for his business.
What's a wine trend that you're currently excited about?
Charles: I'm excited about the trend in California wine towards lower alcohol, less concentration, less overt oak treatment and more balance in general.
Where and what do you like to drink when you're not working?
Charles: When I'm not working, I still like to drink Champagne and Burgundy wine. The venue is best if it's varied – at home, restaurants, and wine bars are all good.
What are some challenges you face as a wine buyer or a sommelier?
Charles: Sourcing the right wines in the right quantities at the right prices is always a challenge.
What you look for when you plan to buy wine for your business?
Charles: Top quality, reasonable prices
What's your typical day…like what do you do in the mornings, afternoons and evening and after the guests are gone?
Charles: Mornings I hit the gym; I work hard all day, and as soon as I'm able I head home to spend time with my family.
Which varietals or countries are in demand these days for your business?
Charles: A lot of my current work revolves around Burgundy and Champagne, so it's all about Chardonnay and Pinot Noir.
What is the hardest thing about your job?
Charles: I love dealing with people and dealing with wine. I hate dealing with paperwork!
Find more interviews like this below:
- An Interview with Nichole Simpson, Sr. Wine Buyer from Walmart Inc
- UWR interviews Marc Batlin - Wine Specialist at Costco Wholesale