7 Best Tempranillo Wines To Stock
19/05/2021 Let the team at USA Wine Ratings help you find the best value tempranillo wine brands to stock this year.
Wondering if tempranillo wine brands will be a good addition to your shelves? Well, yes! These 7 tempranillo wines will definitely prove the best decision ever. Below are the best wines, selected precisely by commercially relevant aspects at the 2020 USA Wine Ratings.
3 de Olano Selection 2016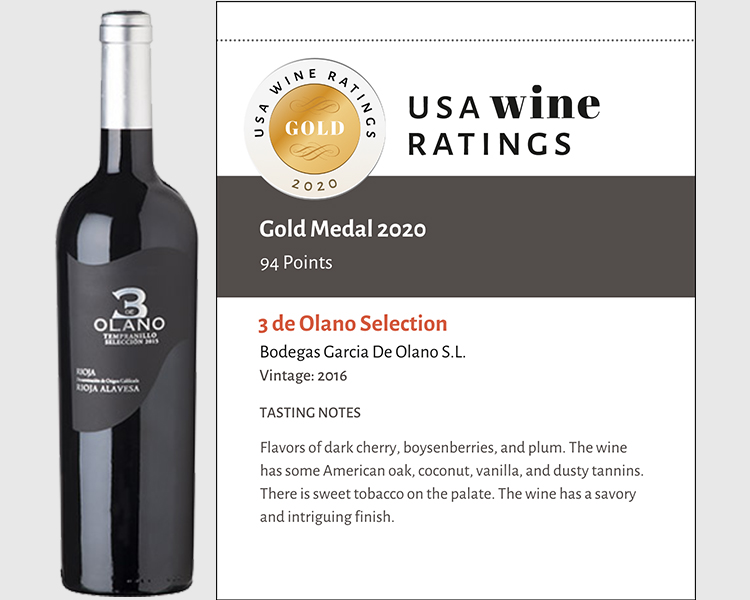 Bodegas García de Olano, producer of 3 de Olano Selection 2016, is a family-run winery based in Spain. It has a long history in winemaking that goes back generations. During 90s', FERNANDO GARCIA DE OLANO, FERNANDO, JOSE LUIS AND JORGE, gained momentum, and created what is known as "BODEGAS GARCIA DE OLANO S.C." today.
The winery's vineyards are located in different districts of the Rioja Alavesa region. Of these, 90% are grapes from the Tempranillo variety. One of its top-quality tempranillo 3 de Olano Selection 2016 won a gold medal scoring 94 out of 100 points at the 2020 USA Wine Ratings in San Francisco.
This Tempranillo is from the winery's 40+ old vines. Made from selected small berry grapes, this wine is intense in color and aroma. Here are the tasting notes by the judging panel of 2020 USA Wine Ratings.
Tasting notes:
'Flavors of dark cherry, boysenberries, and plum. The wine has some American oak, coconut, vanilla, and dusty tannins. There is sweet tobacco on the palate. The wine has a savory and intriguing finish.'
17 by Pinea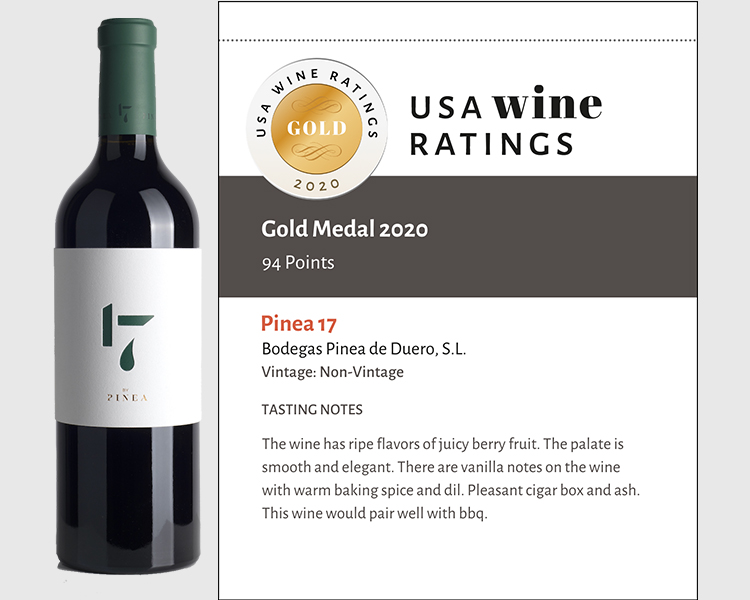 In the heart of Spain's major winemaking region Ribera del Duero, Pinea founders Vicente Pliego and Hugo T. Del Pozzo wanted to produce one of the best wines in the world that awakens your senses and soul. 17 by Pinea is totally what they desired. All Pinea wines are created by highly-passionate winemaking artisans led by master oenologist Isaac Fernandez who is notably the best winemaker in Spain.
"Isaac is one of Spain's brightest young winemaking stars." - Wine Spectator
Made by amazing winemakers, 17 by Pinea is vibrant-colored, clean, and medium-high intensity wine. It reflects the careful attention to detail in viticulture that characterizes the winery. With the clear personality of Ribera del Duero, this Tempranillo amazed judges at the 2020 USA Wine Ratings and went on winning a gold medal with a high score of 94 points. Below are the tasting notes by the judging team.
Tasting notes:
'The wine has ripe flavors of juicy berry fruit. The palate is smooth and elegant. There are vanilla notes on the wine with warm baking spice and dil. Pleasant cigar box and ash. This wine would pair well with bbq.'
Pinea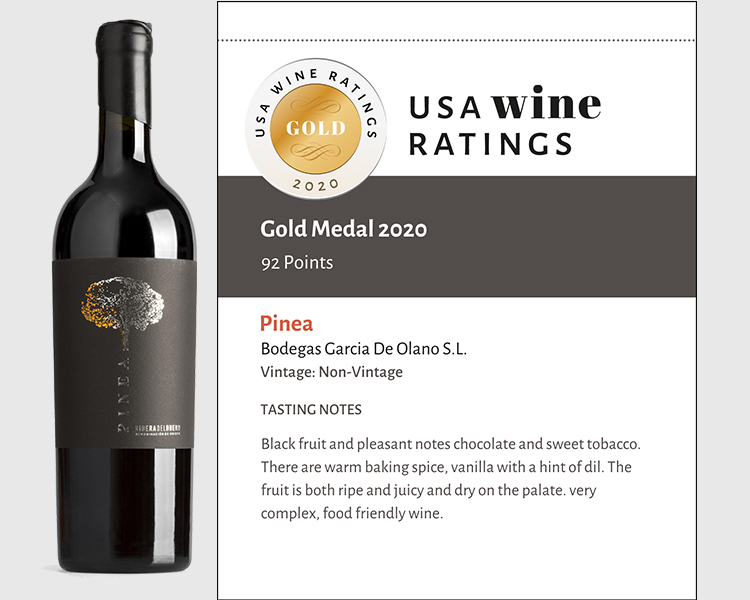 Remember, how we said 2017 was an important year for the Pinea team? One of those major events was the commercial launch of the winery's flagship wine - PINEA.
PINEA is a result of passionate viticulture, meticulous grape selection, and attention to every single detail in the winemaking process. The grapes came from 20 to 90+ years of age vines from estate vineyards. PINEA's elegance, complexity, and lifted aromatics resulted from high quality vinification and patient aging. The judges at our competition were impressed by the minutes of pleasure the wine delivered and showered it with a high score of 92 and a gold medal. Below are the tasting notes.
Tasting notes:
'Black fruit and pleasant notes chocolate and sweet tobacco. There is warm baking spice, vanilla with a hint of dil. The fruit is both ripe and juicy and dry on the palate. very complex, food friendly wine.'
Viña Valoria 1982
Viña Valoria 1982's producer Bodegas Valoria S.L takes us back in time, in 1860, when the Pérez Foncea family founded the original winery in Fuenmayor, one of the most prestigious towns in La Rioja Alta. It was and it is one of the only 10 firms chosen from Rioja that can sell the "old vintages" from before 1980. Their vintages are recognized year after year by international wine experts and USA Wine Ratings is one of them.
Last year, this Spanish winery Bodegas Valoria's Viña Valoria 1982 scored 93 points at our competition winning a gold medal for its stunning quality, design, and value for money. It's tasting notes given by the judging panel are as per below.
Tasting notes:
'Older wine that brings out all the secondary flavors such as sweet tobacco, leather, soy sauce. The wine has dried fruit on the palate like dried strawberries. This wine aged well with supple tannins.'
Coventina Vineyards 2015 Tempranillo Reserve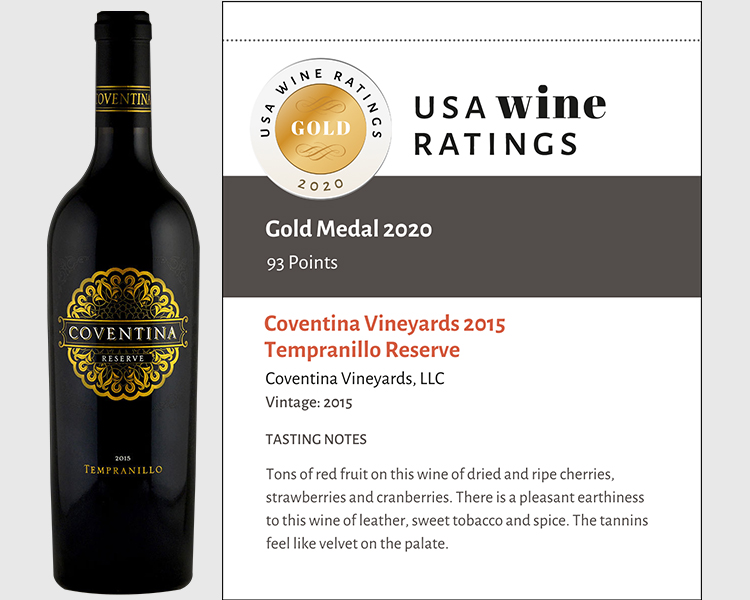 Making great wine is part science, part art, and all care and attention. This is the vision of Coventina Vineyards, the producer of our gold medalist Coventina Tempranillo Reserve 2015. Their win is the result of the choices they made like the right orientation of vines in the field, selection of right wood for the barrels and every other decision about making a high-quality wine.
When we talk about our winner, it is bigger and bolder with more oak influence. It is much darker and fruitier with a generous amount of tannins adding structure to the wine. Below is what the judges at our 2020 event said about this Tempranillo.
Tasting notes:
'Tons of red fruit on this wine of dried and ripe cherries, strawberries and cranberries. There is a pleasant earthiness to this wine of leather, sweet tobacco and spice. The tannins feel like velvet on the palate.'
Lleiroso Reserva 2014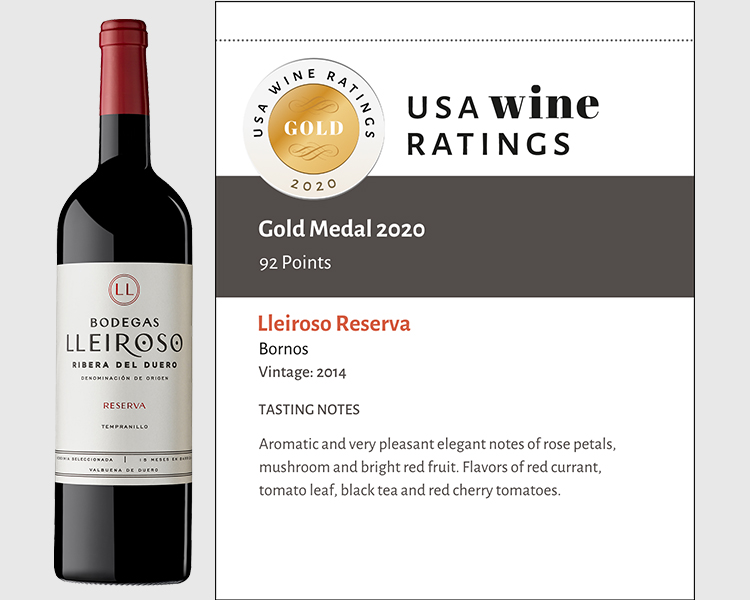 Lleiroso Reserva 2014 by Spanish winery Bodegas Lleiroso or Bornos takes its wonderful quality from its aging or 12 months in new French oak barrels. It is a deep ruby colored complex wine. It is rich in balsamic and spicy.
This tempranillo scored 92 points and went on winning a gold medal at the 2020 USA Wine Ratings. Check out below to see what our competition judges said about this tempranillo.
Tasting notes:
'Aromatic and very pleasant elegant notes of rose petals, mushrooms and bright red fruit. Flavors of red currant, tomato leaf, black tea and red cherry tomatoes.'
3 de Olano crianza 2015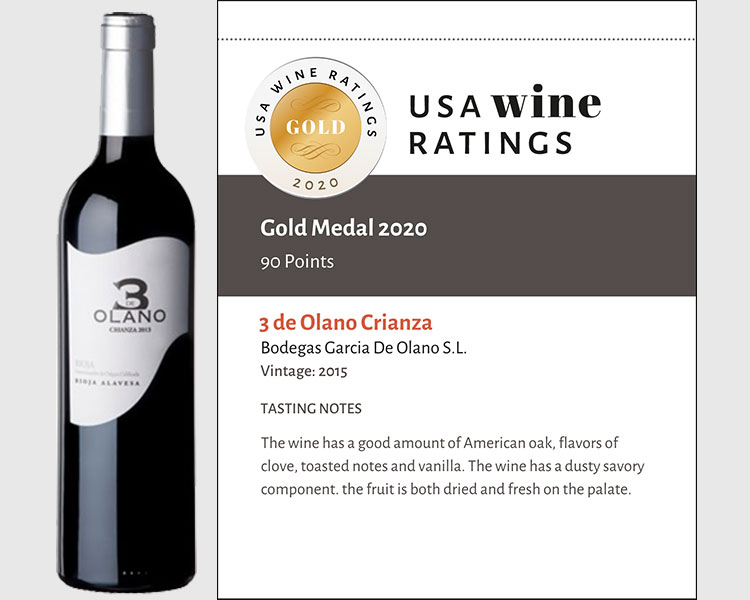 3 de Olano crianza 2015 is also one of the gold winners of our competition from the same producer as 3 de Olano Selection 2016, Bodegas García de Olano.
This one is single variety, old vineyard tempranillo aged in French oak for 12 months. That is what gives the wine its extraordinary color. Look further to read the tasting notes by the judging panel.
Tasting notes:
'The wine has a good amount of American oak, flavors of clove, toasted notes and vanilla. The wine has a dusty savory component. the fruit is both dried and fresh on the palate.'