USA's Fulkerson Dry Riesling Announced 2019's Best Riesling
23/08/2019 USA's 2017 Fulkerson Dry Riesling announced as "The Best In Show By Varietal (Riesling)"
USA's 2017 Fulkerson Dry Riesling by Fulkerson Winery announced as 'The Best In Show By Varietal (Riesling)'and grabbed a Gold medal at the 2019 USA Wine Ratings held in San Francisco on 21 July.
2019's best Riesling, 2017 Fulkerson Dry Riesling expresses both - the spirit and delicacy that is developed by Fulkerson's cool, wet growing seasons and shale rock-type soil. With a lavish aromatic nose of juicy peach and orange zest, the United States' 2017 Fulkerson Dry Riesling leads you to vibrant refreshing tastes of crisp citrus with a clean minerality and bracing acidity.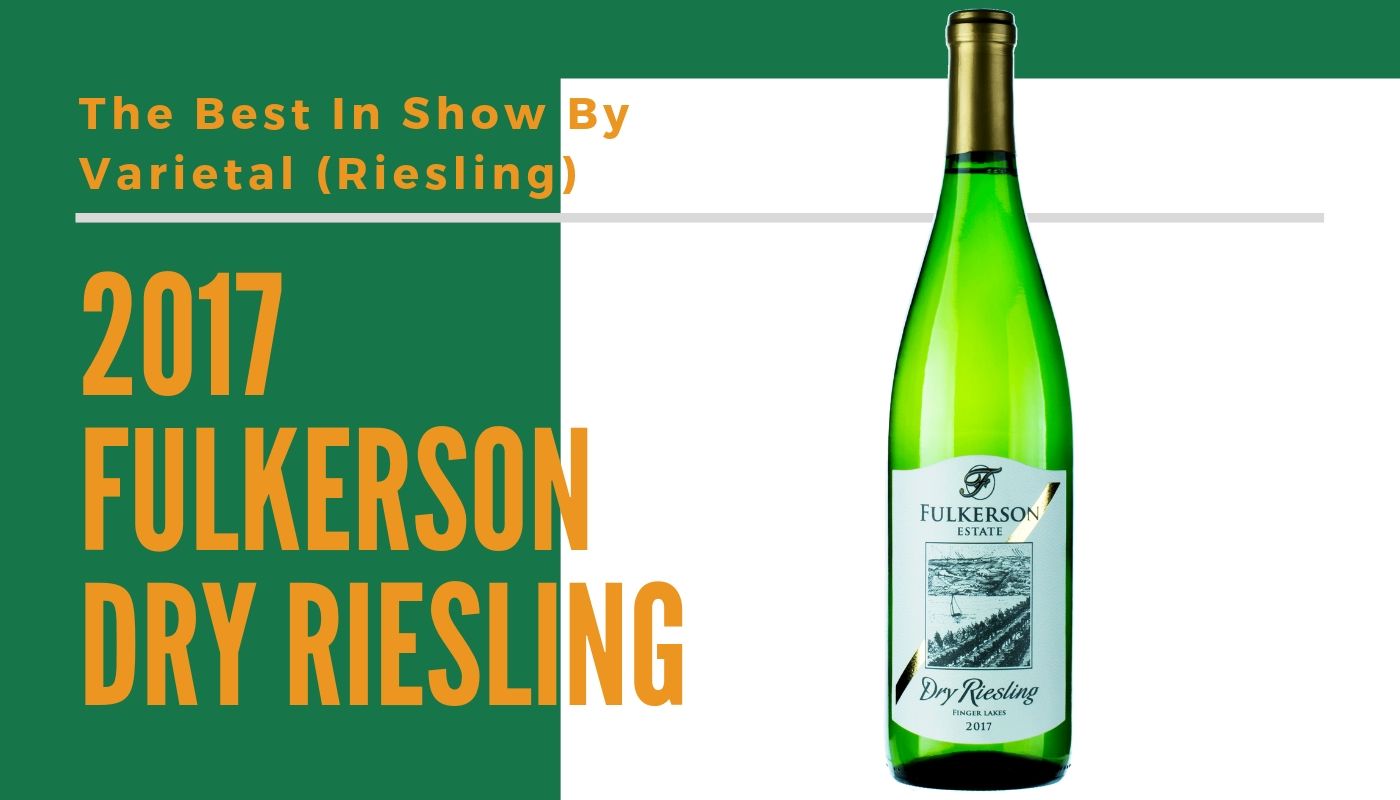 Fulkerson Riesling grapes are available for U-Pick and as Juice for home winemaking.
Other than Germany, the Riesling grape variety is better adapted to the Finger Lakes, USA more than any other area. Fulkerson Winery is the oldest Finger Lakes winery with a very rich history.
Under the direction of Harlan Fulkerson Junior (1886 - 1953), black raspberries became the first significant commercial crop for the Fulkerson farm. The grapes had been grown on the Fulkerson farm since the 1830s - but it wasn't until an infestation wiped out the raspberry industry in the 1960s. That is when Roger Fulkerson began expanding the grape plantings.
In 1975, the 6th Fulkerson generation Sayre Fulkerson graduated from Cornell University with a degree in Pomology - the study of fruit production. He then worked at Glenora Cellars. In 1979 he bought the Jensen Juice plant from Glenora and began selling grape juice to home winemakers.
Later in 1989, Sayre and his wife, Nancy opened the Fulkerson Winery where Sayre now serves as a Winemaker. They have contributed a lot in expanding the Fulkerson farm's grape production - attracting loyal consumers.
Steven Fulkerson, the 7th generation of Fulkersons, graduated from Cornell University in 2007 with a degree in Viticulture and Oenology. Since 2015, Steven has been General Manager at the Fulkerson Winery.
The Fulkersons, talking about their winery state - "We used to be a simple farm, growing raspberries & grapes. Then, we took it a step further; we acquired Jensen Juice and began to offer fresh grape juice to home winemakers. Before we knew it, our passion grew into the Fulkerson Winery you know & love today. We believe progression is natural, and we are proud to have become the winemakers' winery."
To know more about 2019's Best Riesling and Fulkerson Winery, click here.
To evaluate the entrants, the USA Wine Ratings invites a leading panel of top-level wine industry experts where wine is judged on the three parameters of Quality, Value, and Packaging.
The USA Wine Ratings, organized by the Beverage Trade Network, a leading platform that connects the alcohol beverage world - is the leading wine competition in the United States that looks to recognize, reward, and help promote wine brands that have successfully been created to identify and target a specific wine drinker.
To check out other winners, click here.
If you are a winner, you can order your medal stickers from here.
To know more about the competition, click here.
If you are a winery looking to grow your wine business in the US, enter into 2020 USA Wine Ratings and get your wines assessed by top-level wine buyers associated with major on and off-premise chains. The competition will take place on 27 July 2020 in San Francisco. Currently, the competition offers a discount on regular entry-fee. Enter before October 31, 2019, and take advantage of super early bird offer.
See what this competition offers your brand.
Get your wine brands rated by Quality, Value, and Packaging. Currently, we are accepting international and domestic submissions under the super early bird offer till December 10, 2021. Enter your wines now!