USA Wine Ratings Promoted To End-consumers Globally
04/06/2021 For brands looking to grow their consumer awareness, entering in the 2021 USA Wine Ratings is a great way to get in front of global drinks enthusiasts
USA Wine Ratings is now supported by Los Angeles Drinks Guide, Chicago Drinks Guide, New York Drinks Guide, San Francisco Drinks Guide, London Drinks Guide and Mumbai Drinks Guide that has been introduced this year by the event owners, the Beverage Trade Network, to act as a platform to help promote and share the stories of the brands, wineries, and importers of the products that make up is medal and trophy winners.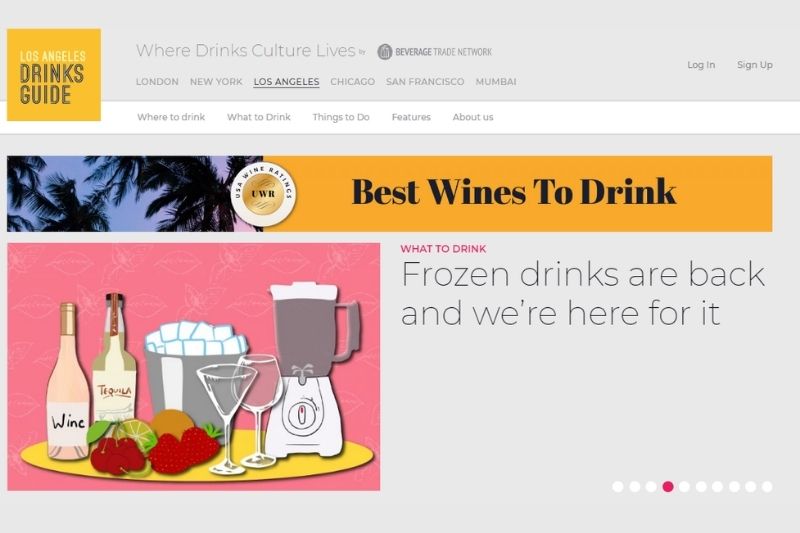 The Guide also goes behind the scenes at many of the city's top bars, pubs, and restaurants to talk first hard to those working there and share their experiences of what drinks are selling and why.
For brands looking to grow their consumer awareness, entering the 2021 USA Wine Ratings is a great way to get in front of global drinks enthusiasts. Winners of the 2021 Competition will be promoted on BTN's consumer drinks platforms giving entrants great exposure in international capital cities. The winners in the separate Beers, Wines, and Spirits competitions can now look forward to added publicity in key markets around the world thanks to The Beverage Trade Network.
The global city guides will act as the city's online portal focused on the culture of drinks in that city. For example, Los Angeles Drinks Guide's no #1 goal is to offer an insider's guide to the city that aims to be the source of your information on global and local drinking culture. The online portal is set to become the best guide, and anyone visiting these cities as they connect with the top bartenders and sommeliers, owners of bars, restaurants, and pubs around NYC, and across the USA as well.
With the help of the Consumers Drinks Guide, you can go from, "I have no idea what wine to buy while staring at the discount section at your local supermarket" to "Have you tried this Manto Negre from Mallorca" or "I know this amazing hidden bar that we have to go to". Not only will you find what you're looking for in the drinks industry, but you will also get to learn about wines, beers, spirits, and the industry as a whole from industry experts. BTN's ongoing investment in building consumer awareness for its medal winners will help the winners get more traction globally.