2021 Registrations End on June 30, 2021
Enter your wines in the 2021 USA Wine Ratings to get them rated by quality, value, and packaging.
The competition looks to recognize, reward and help promote wine brands that have successfully been created to identify and target a specific wine drinker.
For any wine brand to earn its place on a retailer's rack or a restaurant's wine list - and after that indispensably remain where - they should be attractive and customer-driven and not simply created in the general expectation it can find enough people willing to sell and buy it.
One of the guiding principles of the USA Wine Ratings competition is that all wines that receive medals in competitions should be those that consumers actually want to buy, whether it is shopping for wine at a retail store, or ordering an off a restaurant's wine list.
USA Wine Ratings Judging Process
The USA Wine Ratings competition has created a 100-point rating system that takes into account three different criteria (Quality, Value and Packaging) rather than just the wine-making technique or overall taste.
The USA Wine Ratings will be decided based on the following judging formula:
Q (Quality Score) + Value Score (V) + Package Score (P) = USA Wine Ratings Score.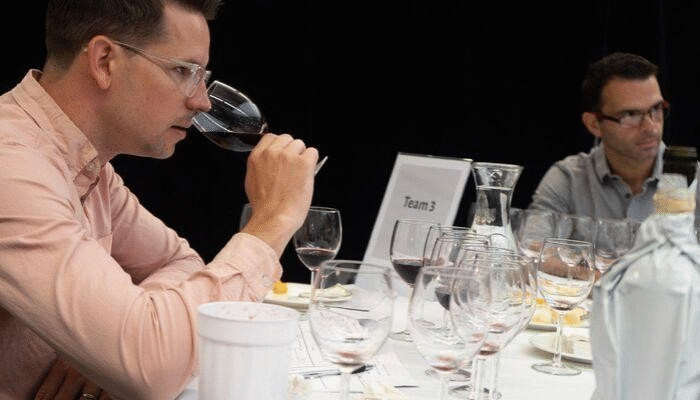 Image: Different parts of the judging process
A separate weighted score will be given for each of the three parts of the judging process. The scores will be added up to give a final score from which individual prizes will be awarded.
Quality Score: will be marked out of 100

Value Score: will be marked out of 100

Package Score: will be marked out of 100
USA Wine Ratings Judging Panel
The judging panel at the USA Wine Ratings consists of top-level wine buyers who are directly involved with current commercial buying, wine consultants, sommeliers, masters of wine, and other industry experts who are also directly involved in the development of new wine brands and buying wine for commercial resale.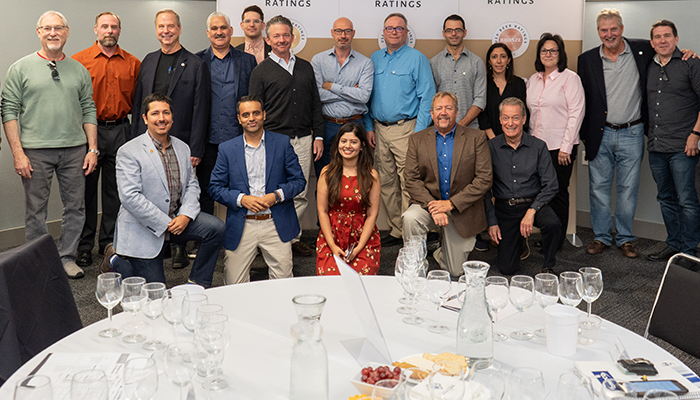 Judges at the 2021 USA Wine Ratings are drawn from leading retail chains, wholesalers, distributors and on-trade groups across a variety of channels and disciplines including multiple retailing, convenience stores, cash and carries, specialist retailers, casual and fine dining, hospitality and travel industry.
2021 USA Wine Ratings Awards
To receive a
Gold: you need to score 90 or over.

Silver: you need to score between 80-89.

Bronze: you need to score between 70-79.
Along with Gold, Silver, and Bronze medals, USA Wine Ratings also offers a plethora of 'Special Category' awards which include :
Wine Of The Year

Winery Of The Year

Best In Show By Country

Best In Show By Varietal

Best Wine Of The Year By Quality

Best Wine Of The Year By Value

Best Wine Of The Year By Package
Benefits of winning a USA Wine Ratings Medal:
Commercial Relevance
A medal from USA Wine Ratings will give future trade wine buyers, be they for a supermarket, specialist wine retailer, casual dining or upmarket restaurant, the re-assurance that these are wines that their customers want to buy.
Cross-Industry Recognition
The USA Wine Ratings also recognizes the huge talent and skills that now exist right through the wine supply chain. From the winemakers, growers and producers that are making the wines; through to the specialist importers and wholesalers that help bring them to market; along with the designers, packaging experts and brand development teams that ensure there is a market and customer base to sell to.
Build Consumer Awareness
Winners in the USA Wine Ratings will be supported by a strong consumer awareness campaign, particularly through social media channels and wine comparison apps, to promote this new global rating.
Key Dates:
Registration Deadline: June 30, 2021
Warehouse Deadline: July 5, 2021
Judging: July 26, 2021
Winners Announcement: August 10, 2021
Fee Schedule:
Regular Pricing - $120
USA Wine Ratings Organisers
The USA Wine Ratings has been created exclusively by the Beverage Trade Network, the US drinks events, services, business, and publishing group dedicated to helping drinks producers and brand owners get closer to the buyers, distributors, and retailers that can bring their products to market.
It is part of a new wider USA drinks awards initiative that also includes The USA Spirits Ratings and the USA Beer Ratings that look to reward and highlight market driven spirits and beer brands.