Introducing 2019's Best Spanish Wine
22/08/2019 Isabella 2017 announced as the 'Best Wine in Show by Country (Spain)' at 2019 USA Wine Ratings.
Introducing 2019's best Spanish Wine – Isabella 2017. Spain's Isabella 2017 has been recognized as the 'Best Wine in Show by Country (Spain)' at the 2019 USA Wine Ratings, which took place on 21 July in San Francisco. It also received a gold medal for scoring highest among other wines in the competition – making it 2019's best Spanish wine.
Isabella 2017 mesmerizes us with its deep cherry red-colored look. The purple tinges make the look more spectacular. On sipping, this wine reveals dark red fruits and hints of strawberry and raspberry. The flavors are balanced with smooth toasted notes and spicy, licorice hues. Its tasty and fruity flavors, light touches of smoky, toasted vanilla, and well-rounded tannins give a wonderful experience to the palate. It is a perfect bottle to savor with paella and beef stew.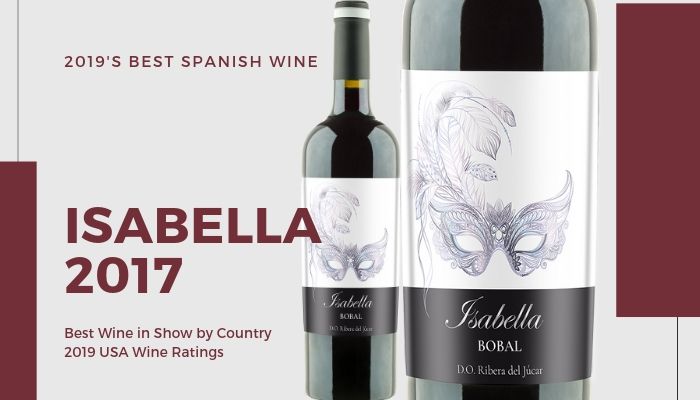 Isabella 2017, 2019's best Spanish wine, is produced by Spanish winery Bodegas Albero. It is named after one of the daughters of this Estate owner's family. Just like it takes its name from the next generation of the family, the wines they produce are made keeping the future aspects in mind. They always strive to apply modern technologies in their winemaking practices, which helps them in providing a unique tasting experience to the world.
For more information, visit their website at http://www.bodegasalbero.com/#
Header image source: Bodegas Albero
---
To evaluate the entrants, the USA Wine Ratings invites a leading panel of top-level wine industry experts where wines are judged on the three parameters of Quality, Value, and Packaging.
The USA Wine Ratings, organized by the Beverage Trade Network, a leading platform that connects the alcohol beverage world - is the leading wine competition in the United States that looks to recognize, reward, and help promote wine brands that have successfully been created to identify and target a specific wine drinker.
To check out other winners, click here.
If you are a winner, you can order your medal stickers from here.
To know more about the competition, click here.
If you are a winery looking to grow your wine business in the US, enter into 2020 USA Wine Ratings and get your wines assessed by top-level wine buyers associated with major on and off-premise chains. The competition will take place on 27 July 2020 in San Francisco. Currently, the competition offers a discount on regular entry-fee. Enter before March 30, 2020, and take advantage of early bird offer.
See what this competition offers your brand.
Check out how to enter in the 2020 USA Wine Ratings.