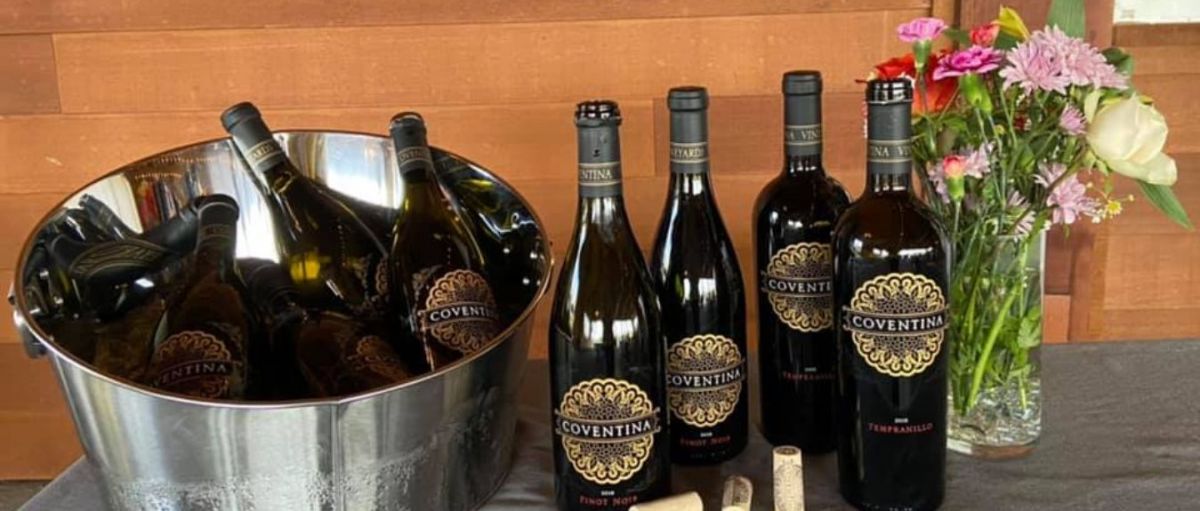 Coventina Vineyards Pinot Noir Reserve Wins Wine of The Year at 2022 USA Wine Ratings.
19/08/2022 The 2022 USA Wine Ratings results are out, and we are pleased to announce the Coventina Vineyards Pinot Noir Reserve Won the Wine of The Year Award.
Coventina Vineyards Pinot Noir Reserve bags a Gold with 98 points, Wine of the Year, Red Wine of the Year, Best in Show By Country, and Best in Show By Varietal Award at the 2022 USA Wine Ratings, held on July 25 in San Francisco, USA.
Owned by Chris Amen, a woman who is clear about her goals. Her father, who was the firstborn in a big family, owned a chain of supermarkets and served as chairman of the board of Unified Grocers for a number of years. Chris has had a lifetime of expertise in the wine and culinary industries. Chris has also had a lifelong interest in organic gardening and healthy nutrition. A 1/4-acre organic garden and orchard are already present on her own property.
[[relatedPurchasesItems-44]]
Combining these pursuits led to establishing a vineyard and producing and bottling premium wines, which was only a tiny step. She wanted her wine to be great, just like everything else she does. She committed herself to learning about the best methods for managing vineyards so that she could take part in all of the imaginative choices. She even discovered a unique way to create grape trellises, which Vineyard Manager Herb Quady successfully used.
She assembled the team she required to develop the vineyard and transform the grapes into great wines, thanks to her exceptional skill in choosing the best individuals to support her in realizing her vision. Even the bottle she created is a work of art thanks to its unique glass and hand-etched label.
Chris chose the name Coventina for her wine in honor of a Celtic water deity who is known for abundance, rebirth, new beginnings, purification, and gentle inspiration. The name Coventina, which also sounds like the term "covenant," symbolizes Chris' promise to the land to always exert her best efforts to bring nature's bounty to perfection, as shown in her exceptional wines.
Coventina wines are the liquid embodiment of the sun's rays, the ocean's transparency, the best fruits, and the earth's fertile soil. The beauty of the end product reflects the respect for nature and the care taken to translate these traits into the texture, aroma, color, and taste of a premium wine that nourishes heart and soul.
Tempranillo and Pinot Noir were the first wines chosen for the Coventina vineyard. Based on the local conditions, Herb selected the particular clones they planted.
They chose a clone of Pinot Noir that benefits from the additional heat present in Southern Oregon to produce fascinating and nuanced wine. It makes wine with the added depth and substance that wine drinkers demand in their Pinots and has a dark-fruit character evocative of a spicy black current jam. According to the environmental factors that best highlight the characteristics of each variety, the grapes are planted in various zones throughout the vineyard.
The Coventina Vineyards Pinot Noir Reserve is bolder, fuller, and more robust. Black cherries and currant jam have intense aromas. It has a substantial mid-palate that blends seamlessly with the lengthy finish. The richness lingers as you enjoy it on a beautiful evening filled with delectable cuisine and stimulating conversation.
Name - Coventina Vineyards Pinot Noir Reserve
Producer - Coventina Vineyards, LLC
Country - United States
Vintage - 2017
Judges' tasting notes
"Bright aromas of dark cherries, red licorice, and currant with hints of dried thyme are balanced nicely on the nose. A well-balanced wine with rich flavors of cherries on the palate with a fresh acidic finish."
Here are some of the top winners of the 2022 USA Wine Ratings
Red Wine of the Year - Coventina Vineyards Pinot Noir Reserve
White Wine of the Year - Jules Gautret Pineau des Charentes AOC White
Rose Wine of the Year - Penina Gold, Rose - Extra Dry
Winery of the Year -Maison Ansac
Best In Show By Country - Coventina Vineyards Pinot Noir Reserve
Best In Show By Varietal - Coventina Vineyards Pinot Noir Reserve
Best Wine by Quality - Coventina Vineyards Pinot Noir Reserve
Best Wine by Value - Coventina Vineyards Pinot Noir Reserve
Best Wine by Packaging - Coventina Vineyards Pinot Noir Reserve
Check out the full list of medal winners here.
About The Competition and Organisers
The USA Wine Ratings aims to discover, honor, and support wine brands that have successfully catered to and targeted a particular wine drinker. The wines at USA Wine Ratings are assessed based on their quality, value, and packaging. The USA Wine Ratings evaluates award-winning wines for their quality, affordability, and aesthetic appeal in terms of their packaging and design in an effort to establish a new standard. This year at USA Wine Ratings, the esteemed panel of judges evaluated more than 800 different wines from across the globe, with some new ones on the block and some old favorites. The judging took place on the 25th of July in South San Francisco.
The 5th Edition of USA Wine Ratings was organized exclusively by the Beverage Trade Network, the US drinks events, services, business, and publishing group dedicated to helping drinks producers and brand owners get closer to the buyers, distributors, and retailers, bringing their products to market.
To know more, you can visit the official website of USA Wine Ratings.
Submissions for the 2024 USA Wine Ratings are now open. Enter your wines today at the lowest price. Here's how to enter.