2022 USA Wine Ratings Winners Announced
18/08/2022 The 2017 Coventina Vineyards Pinot Noir Reserve wins the top score at the 2022 USA Wine Ratings, making it the Wine of the year.
The 5th edition of the USA Wine Ratings is pleased to announce the 2022 winners. Wines from 24 different countries were submitted with the United States and 98 varietals were submitted, Australia and Italy being the top 3 entrants followed by Portugal. The top 3 varieties submitted were cabernet sauvignon, shiraz, and chardonnay.
The USA Wine Ratings looks to recognize, reward, and help promote wines that have successfully been created to identify with and target a specific wine drinker. For any wine brand to earn its place on a retailer's shelf or a restaurant's wine list - and then vitally stay there - they need to be marketable and consumer-driven. USA Ratings will single out and shine the spotlight on those wine brands that consumers really want to buy and have a clear market value for trade buyers. The 3 main criteria that USA Wine Ratings evaluated the wines on were Quality, Value, and Package.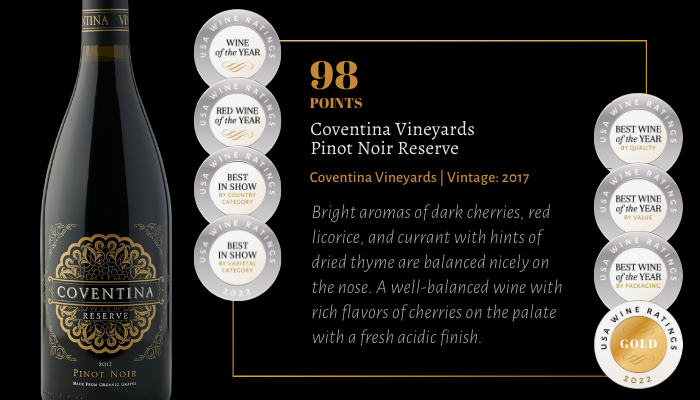 2017 Coventina Vineyards Pinot Noir Reserve wins the wine of the year.
Here are the winners at the 2022 USA Wine Ratings:
Wine Of The Year: 2017 Coventina Vineyards Pinot Noir Reserve, United States
Winery Of The Year: Maison Ansac, France
Best Wine By Quality: 2017 Coventina Vineyards Pinot Noir Reserve, United States
Best Wine By Value: 2017 Coventina Vineyards Pinot Noir Reserve, United States
Best Wine By Package: 2017 Coventina Vineyards Pinot Noir Reserve, United States
Best In Show By Country:
United States: 2017 Coventina Vineyards Pinot Noir Reserve
Italy: 2017 Il Campanile
France: Jules Gautret Pineau des Charentes AOC White
South Africa: Robertson Oval Label Gewurztraminer
Portugal: 2020 Terras Lusas Reserva
Argentina: 2021 Cien por Ciento Torrontés
Australia: 2019 Single Vineyard Bush Vine Grenache
Moldova: 2017 Late Harvest Sauvignon Blanc
Spain: Segura Viudas Brut Reserva Heredad
Brazil: Salton Ouro Brut
Best In Show By Varietal:
Pinot noir: 2017 Coventina Vineyards Pinot Noir Reserve
Pinot grigio: Archer Roose - Non Vintage Pinot Grigio
Chardonnay: GL: Entry Champagne Brut
Sauvignon blanc: Late Harvest Sauvignon Blanc
Shiraz: Tar & Roses 'The Rose' Shiraz
Merlot: Masciarelli/Marina Cvetic Merlot Terre Aquilane IGT
Cabernet Sauvignon: Masciarelli/Marina Cvetic Cabernet Terre Aquilane IGT
Moscato: Barefoot Fruitscato Pineapple