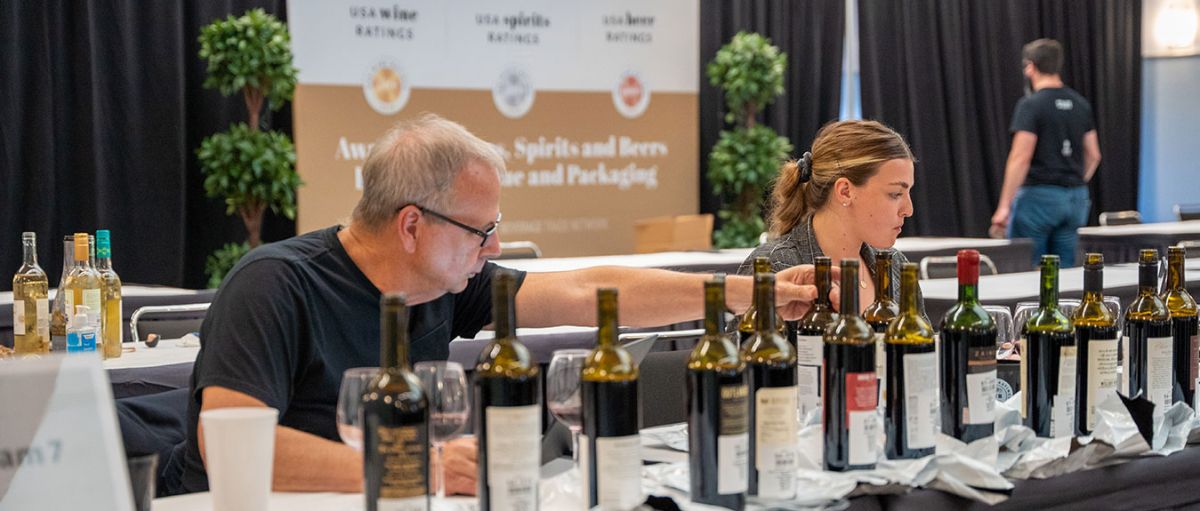 Enter Your Wines Before April 28 and Get Early Bird Pricing
27/11/2022 Here's all that you need to know about the international USA wine, spirits, and beer Ratings, and how your brands are awarded on Quality, Value, and Packaging. Early Bird deadline is April 28.
The USA Wine, Beer Spirits Ratings event, is scheduled for July 23 and July 24, 2023, in San Francisco and its time to register your wines for the 2023 competition.
With Masters of Wine, top national and regional buyers, and some of the finest wine directors in the country, the competition is set to have the top panel of trade judges for its 2023 competition.
The USA Wine Ratings competition, which is organized by Beverage Trade Network prides itself on working with preeminent judges that have direct buying responsibility in their roles. This competition that happens every year in San Francisco will see buyers assess wines by their quality, value, and package. Now in its 6th year of operation, the competition continues to add new partnerships to give winners increased awareness and has grown rapidly with both domestic and international entrants.
The goal of this competition is to recognize high-quality wines, beers and spirits that consumers are looking to buy in retail stores or order when they visit a bar or restaurant. The judging panel will consist of prominent industry individuals with a strong commercial buying focus. Whether they are purchasing for hotels and restaurants or a retail chain of liquor stores, these buyers know the types of brands and products that will resonate with consumers.
The Judging Process
Each submission is assigned a unique submission reference number. The wines are assigned a score for quality and value on a blind-tasting basis. Following this, the wines are brought to the judges again with the packaging revealed for the packaging score for that flight.
The Scoring system
Q (Quality Score) + Value Score (V) + Package Score (P) = USA Wine Ratings Score.
A score will be given for each of the three parts of the judging process with Quality holding twice the weight. The scores will be aggregated with those of the other judges for the same product on the team to give a final score from which individual prizes will be awarded.
Quality Score: will be marked out of 100
Value Score: will be marked out of 100
Package Score: will be marked out of 100
Definitions:
Quality: Quality will be assessed based on how agreeable the wine is for its target customer and its chemical analysis. The quality of the wine is measured considering the following characteristics: Appearance, Aroma, Body, Taste, and Aftertaste.
Value: The objective is to understand how well a particular wine is priced and the value it offers. The better the quality offered for the price, the greater the value score will be.
Package: Packaging will be measured by how well judges think the wine will be perceived by the consumer. The package will be judged for the off-premise market considering factors like label design and information, closure, and overall look. This does not involve boxes, cartons, and bags. It is how the judges think the product will be perceived when placed on a wine shelf amongst thousands of other wines.
Being part of the Beverage Trade Network carries a number of significant benefits for competition entrants. Beverage Trade Network is one of the leading global platforms connecting wineries with importers, distributors, and retailers globally. They acknowledge the profile of the wine in the eyes of the trade especially promoting your brand to importers and distributors globally.
Here are some of the benefits of and reasons why you should enter your wines in the USA Wine Ratings.
1. Raise your brands' profile, prestige, and credibility with importers, distributors, press, retailers, and consumers around the world.
2. Instill confidence in trade buyers about the marketability of your wine as UWR rates wines by their value, package, and quality.
3. Receive scores feedback: You may see the individual score feedback on how your products fared with quality, value, and package.
4. Create confidence for your wines in consumers: The ratings that your products receive gives the consumer a sense and stamp of approval.
5. Winners to get unparalleled global reach via the BTN network. See winning impact for further details.
6. Receive tasting notes and feedback from Judges.
7. Increased consumer reach: Winners will be promoted on BevRoute, SommeliersBusiness, Beverage Trade Network, and the Los Angeles Drinks Guide all year round.
8. Winners will receive a free 90 days listing on the Get Drinks Delivered platform to drive consumer eCommerce and awareness.
---
Enter your brands now and get in front of USA's top buyers. Get your brands rated by Quality, Value and Package. The submission deadline is June 30.