2019 St Andrews Riesling from Clare Valley, Australia Wins The Best Wine Award
02/01/2021 Bagging a total of 6 medals, St Andrews Riesling won big at the 2020 USA Wine Ratings.
The 3rd edition of the USA Wine Ratings is pleased to announce the 2020 winners. Wines from 30 different countries were submitted with United States, Spain, Italy being the top 3 entrants. There were new additions like Ireland and Brazil. The top 3 varieties submitted were cabernet sauvignon, chardonnay and pinot noir.
This year's competition was the best as far as the quality of wines entered, according to the judges.
2019 St Andrews Riesling from Clare Valley, Wakefield Taylors Wines, Australia scored 97 points winning Gold medal, Wine Of The Year, Winery Of The Year, Best In Show By Country, Best In Show By Varietal, and Best Wine By Quality at the 2020 USA Wine Ratings.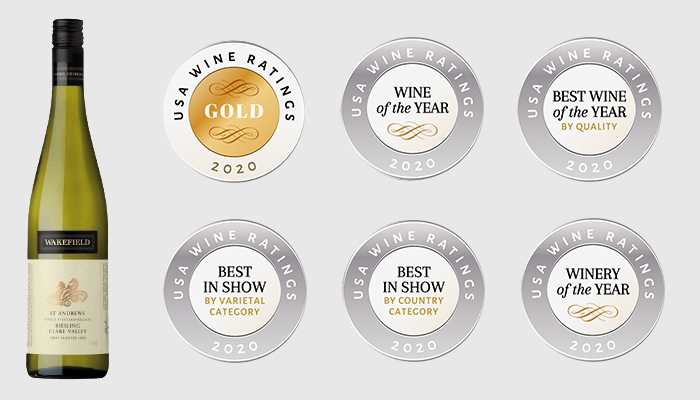 There were 162 gold winners, 635 silver winners, and 127 bronze winners at this year's competition. Here are some of the gold winners and special award winners:
●Wine of the year: 2019 St Andrews Riesling from Wakefield Taylors Wines, Australia.
●Winery of the year: Wakefield Taylors Wines
●Best Wine by Quality: 2019 St Andrews Riesling from Wakefield Taylors Wines, Australia.
●Best Wine by Value: 2018 Villa Bonaga Lambrusco Salamino di Santa Croce DOC Amabile from Italy by Lidl.
●Best Wine by Packaging: 2019 Unsi Terrazas White from Anecoop Bodegas, Spain.
View winners by country and varietal here
About Wakefield Taylors Wines
For three generations the Taylor family has crafted great Australian wines in the Clare Valley, South Australia. Discover our collection of award-winning wines.
St. Andrews Named after the historic property first established in 1892. A true reflection of the terroir, St. Andrews wines exemplify the very best of handcrafted Clare Valley winemaking. The first Wakefield St. Andrews wines were released in 1999 and have developed a reputation as benchmark examples of great Clare Valley wine. As our flagship, St Andrews is only released in the finest vintages.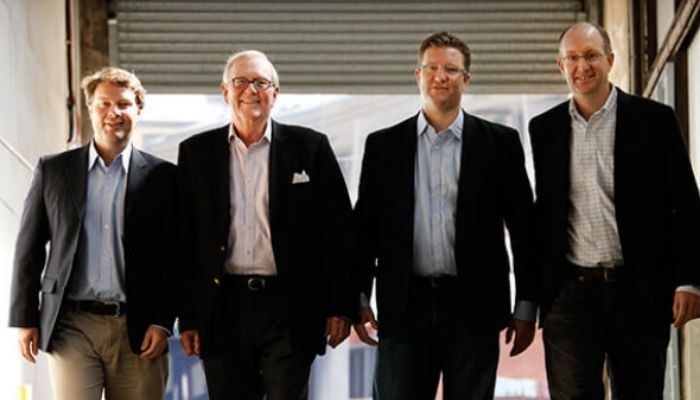 The St. Andrews range is named after the historic property first established by Scottish immigrants in 1892. For forty years St. Andrews was one of the leading wine producers in the Clare Valley but sadly, ceased operating when it was sold in 1934. Bill Taylor quickly recognised the potential of the adjacent St. Andrews property when he was first establishing his vineyards in the Clare Valley, and wanted to make it a part of the family's estate. So in 1995 the family purchased the property and became proud custodians of a piece of Australian wine history.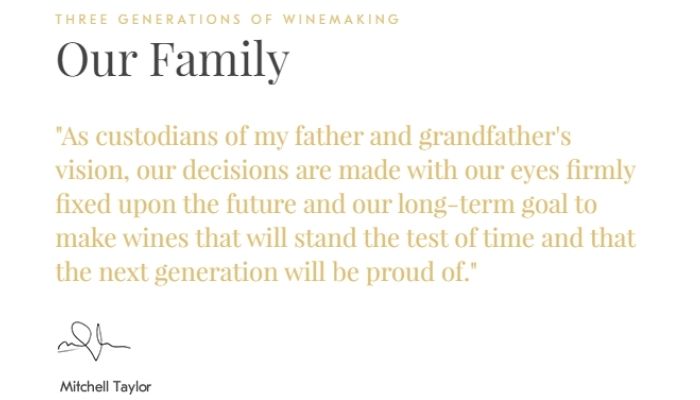 They immediately went about the task of re-creating the glory days by once again planting vines on the rich, fertile soils and in 1999 the first St. Andrews wines from Wakefield were released. These wines are particularly special with fruit sourced from the best blocks on the estate and only crafted in the best vintages, they're a true testament to our philosophy of 'respect the fruit'. The hand-crafted approach extends beyond the winemaking too as even the labels are hand applied. This modern version of St. Andrews now has a heritage that spans almost two decades. Over this time, the wines have developed a well-deserved reputation - not only as benchmark Clare Valley styles but also standing tall amongst the best from Australia.
Clare Valley Vineyards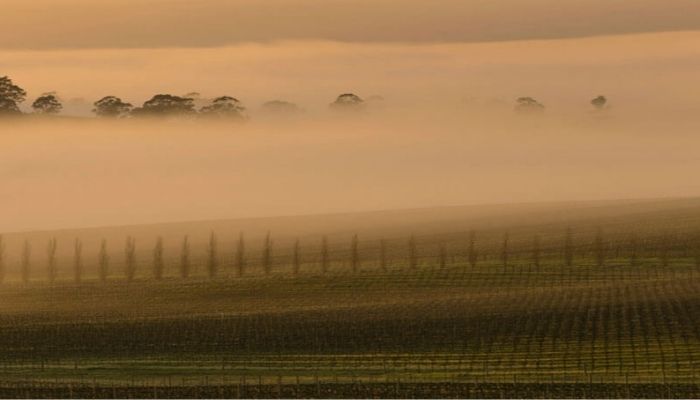 The picturesque Clare Valley's winemaking history spans more than 150 years, making it one of Australia's oldest wine-producing regions. It has also been described as one of the prettiest in Australia with rolling hills and sweeping gullies. The unique combination of geography, geology and climate results in terroir that is perfect for producing world-class wine.
To win a USA wine Ratings award you will need to score highly in all three areas of our judging criteria. You might have an outstanding quality wine, but if the price and packaging is not right, you will not be recognized by the USA wine Ratings.
Scoring system USA wine Ratings score is decided on the following judging formula: Q (Quality Score) + Value Score (V) + Package Score (P) = USA wine Ratings Score.
Quality Score: was marked out of 100
Value Score: was marked out of 100
Package Score: was marked out of 100
A separate weighted score was given for each of the three parts of the judging process. The scores were calculated to give a final score out of 100 from which individual prizes will be awarded.
Gold: to receive a Gold medal you need to score 90 or over. Silver: you need to score between 80-89. Bronze: you need to score between 70-79.
To view full results, please click here.