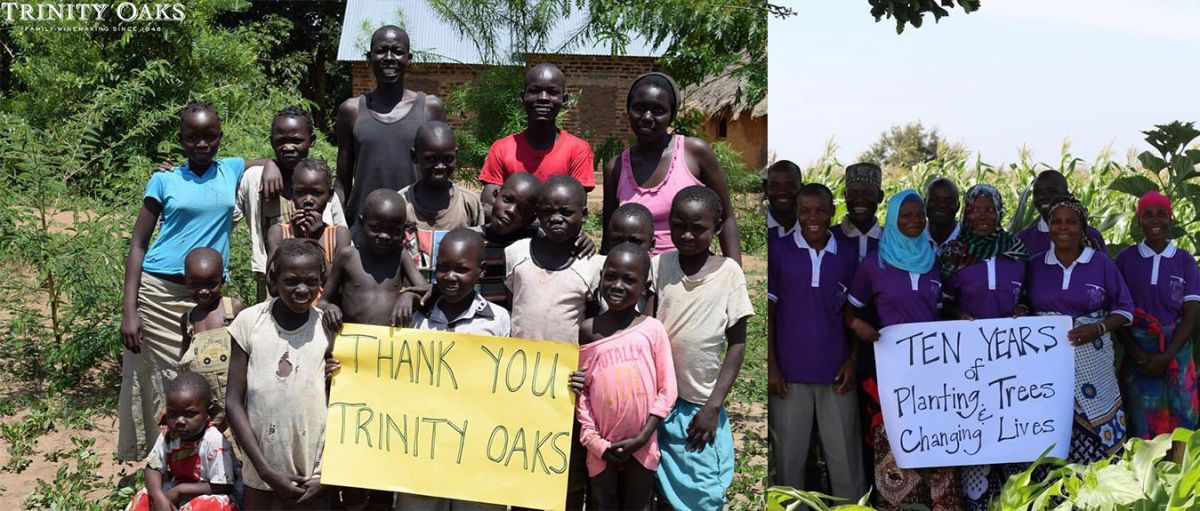 Winethropic: 7 US Wineries that Give Back
16/03/2022 7 US wineries that operate with a social responsibility focus.
Eethical spending is more important than ever today, and we're all more conscious of where we spend our dollars. These seven philanthropic wineries have made "giving back" part of their mandate and are planting trees, conserving wildlife, and donating money to food insecurity, cardiovascular research, and women's empowerment. USA Wine Ratings is very pleased to feature these people and wineries who are making a world a better place.
[[relatedPurchasesItems-27]]
Teneral Cellars + World Central Kitchen
World Central Kitchen (WCK) is an organization that "uses the power of food to nourish communities and strengthen economies in times of crisis and beyond."
Teneral Cellars, a women-owned, purpose-driven all-digital winery, recently announced a partnership with World Central Kitchen for the Peace, Love & Joy Collection. $10 from every sale goes toward WCK Direct. This text-to-order program addresses the dramatic rise in food insecurity, the increased strain on the emergency food system, and the struggling restaurant industry. WCK gets meals to those who need them most. Featuring recipes from Chef Stacey Poon-Kinney and tasting notes by Master Sommelier Jill Zimorski, the Peace, Love & Joy collection includes a Chardonnay, a Grenache, and a Syrah. The Gratitude Red Blend, is a limited edition blend of Zinfandel and Petite Sirah and can be added to the group. Each quarter, Teneral Cellars supports a different charitable organization with a focus on social justice issues, women's health and empowerment, and combating climate change.
Ehlers Estate + Leducq Foundation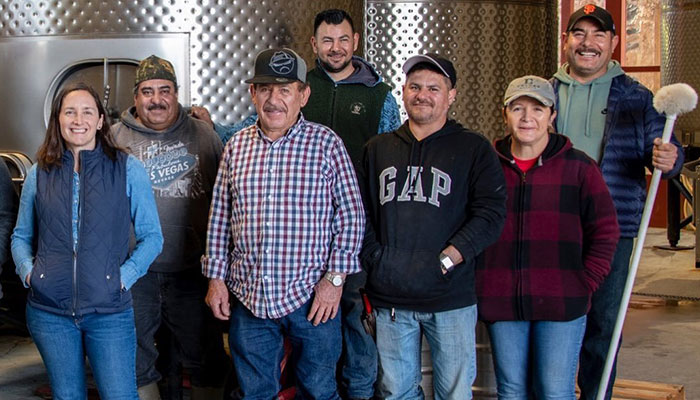 Proceeds from tasting fees and sales of Ehlers Estate wines support the Leducq Foundation's international cardiovascular research programs.
Ehlers Estate is a picturesque organically farmed 42-acre vineyard with a stone barn winery dating back to 1886 and a small, devoted winemaking team. The winery's principles are grounded in a dedication to quality, and a commitment to a legacy. Today, the Leducq Foundation owns the winery, a trust that combats cardiovascular disease and stroke. As a result, proceeds from tasting fees and sales of Ehlers Estate wines support the Leducq Foundation's international cardiovascular research programs.
Trinity Oaks + Trees for the Future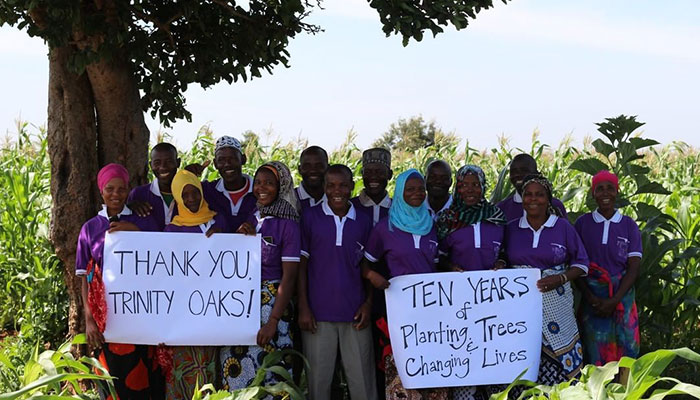 Trees for the Future plants one tree for each bottle of Trinity Oaks sold.
Sustainability-focused wine label Trinity Oaks has teamed up with Trees for the Future. In their twelve-year partnership, they have planted more than 23 million trees with the "One Bottle One Tree" initiative that plants a tree for a community in need with every bottle of Trinity Oaks wine purchased.
One Hope Wines
"We share wine to give hope and create a lasting impact for local and global causes. With over $7.5 Million donated to date, doing good has never tasted so great." - One Hope Wines
One Hope Wines prides itself on being Napa Valley's first and only purpose-driven winery. They were founded on the basic principle that giving back is good business and, to date, have donated $8M to non-profits globally and supported over 28,000 local organizations. For the second year, the ONEHOPE Foundation is giving a minimum of $50,000 on top of donations made from purchases to support children with special needs and their families. In addition, supporters can Shop on the Group Fundraiser to help support, where 10% of your purchase will go directly toward the Holiday Magic Grant program.
Riboli Family Wines + Dress for Success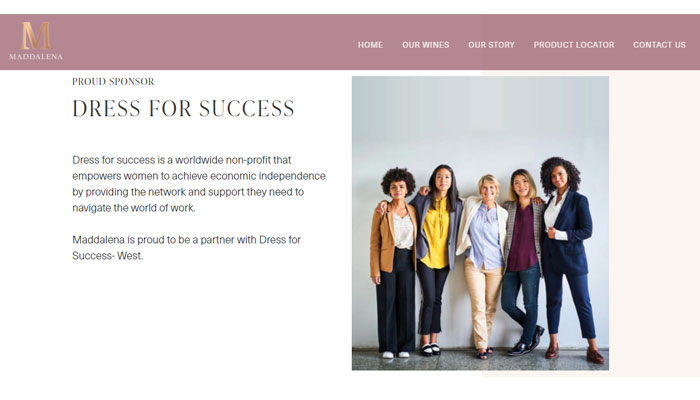 The winery has partnered with Dress for Success – West to empower women in business.
Maddalena Wines is partnering with Dress For Success Worldwide West. This organization strives to empower women to achieve economic independence by providing a network of support, professional attire, and development tools. The "Make Your Mark" campaign also includes a donation to the Women of the Vine & Spirit Foundation in Maddalena Riboli's name to help support women pursuing a career in wine. Dress for Success exemplifies the same grit and ambition that propelled the success of Maddalena, the brand's matriarch and founder. Maddalena immigrated from Piedmont, Italy, and opened up San Antonio Winery in 1946.
Gott For Good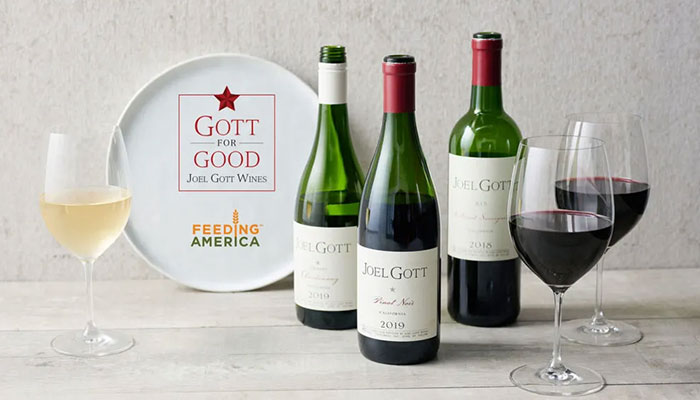 "From our family to yours, we are honored to partner with Feeding America and food banks nationwide to help families in need this holiday season." - Joel Gott
California winemaker Joel Gott wines have partnered with Feeding America for the third consecutive year. The partnership has provided nearly 5 million meals since 2019. When you purchase the Gott for Good wine bundle ($56), it includes a 2019 Unoaked Chardonnay, 2019 California Pinot Noir, and the 815 Cabernet Sauvignon, and a portion of the proceeds donated to Feeding America.
Duck Pond Cellars + Oregon Department of Fish & Wildlife
For each bottle sold, $5 is donated to the Oregon Department of Fish & Wildlife Conservation Program.
Duck Pond Cellars has partnered with the Oregon Department of Fish & Wildlife Service for seven years. Each limited-edition wine from their Conservation Cuvee Wine Series features a local artist, combining their love of the environment with their love of community and the arts. Each painting represented on these labels is voted for by the public every November. In addition, $5 is donated to the ODFW's Conservation Program for each bottle sold.
Article by Colleen Thompson, Editor + Writer
Submissions for the 2024 USA Wine Ratings are now open. Enter your wines today at the lowest price. Here's how to enter.