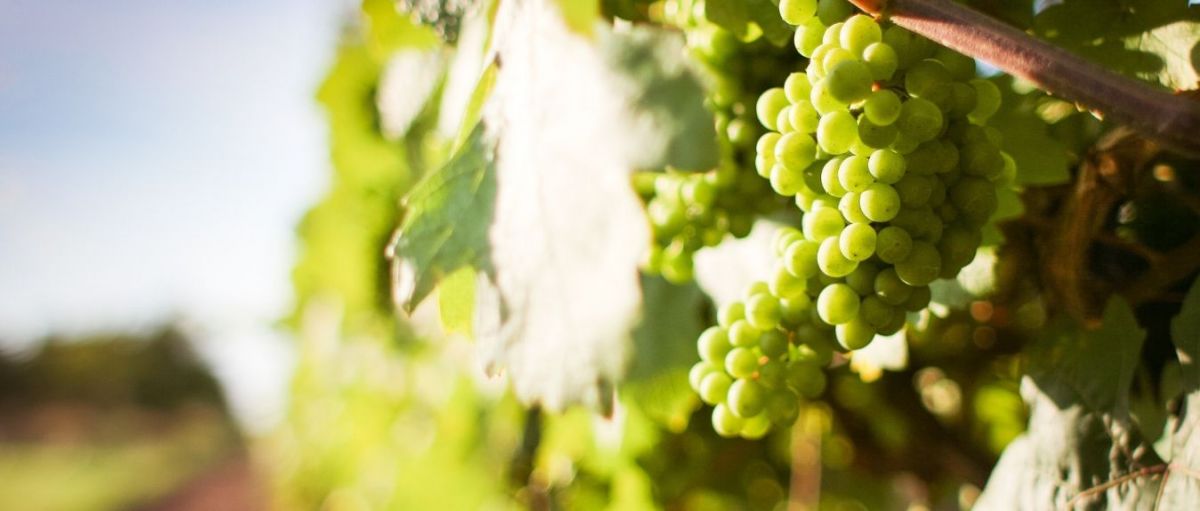 Wine Regions in California
10/05/2018 California is one of the largest wine producing regions of the United States having more than 1,200 wineries and 107 different American Viticultural Areas (AVAs).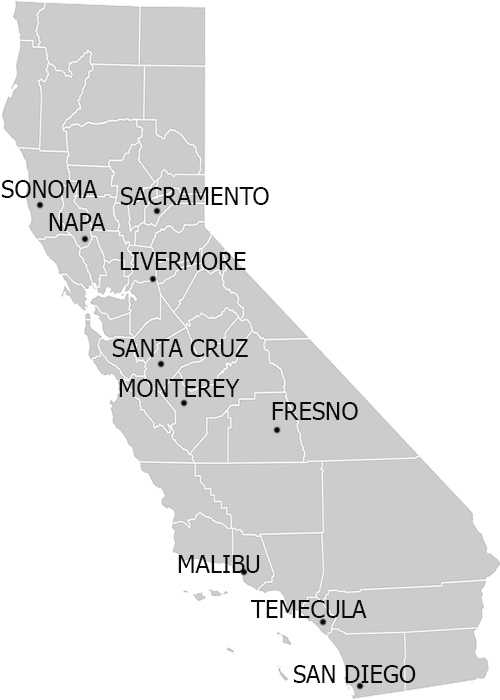 California produces nearly 30 percent more wine than the entire country of Australia and 90 percent of all wine produced in the USA. If California were a separate nation, it would rank No. 4 worldwide in terms of overall wine production.
So where is all this wine being produced? The starting point to understanding California wine is realizing that the state can be easily divided into four primary wine-producing regions: North Coast, Central Coast, Central Valley, and South Coast. In turn, each of these massive regions can be broken down into smaller, distinctive wine sub-regions. The North Coast, for example, is home to both Napa Valley and Sonoma, the two top California wine regions. And, in turn, these two wine regions are further broken down into very distinctive AVAs – Napa has 16 different AVAs, while Sonoma has 13.
North Coast
In addition to Napa and Sonoma, the two other primary wine regions located within the North Coast are Mendocino County and Lake County. In addition, the Los Carneros AVA (typically referred to as just "Carneros") straddles both the Napa and Sonoma wine regions and is generally considered to be part of both.
Napa Valley, of course, is the wine region that everyone immediately recognizes, since it is one of the most famous wine regions in the entire world. Napa has over 600 wineries, ranging from small boutique wineries to large, corporate wineries. While the dominant grape in Napa is Cabernet Sauvignon, the region's wineries also produce award-winning wines from Chardonnay, Merlot, Pinot and Sauvignon Blanc. Some of the more notable AVAs included within Napa are Howell Mountain, Oakville, Stags Leap and Yountville.
If there is a close second to Napa in terms of brand recognition, it is Sonoma. The dominant grape in Sonoma is Pinot Noir. Sonoma has 13 different AVAs, and the most famous of them include Russian River Valley, Dry Creek, Chalk Hill, Knights Valley, and Alexander Valley. Overall, there are more than 500 different wineries within Sonoma.
Central Coast
The Central Coast extends along the California coast, from San Francisco to Los Angeles. In turn, the Central Coast is generally divided into the North Central Coast and the South Central Coast. The most famous AVAs within the North Central Coast include Livermore Valley, Monterey County and Santa Cruz Mountains. The most famous AVAs within the South Central Coast include San Luis Obispo, Paso Robles and Santa Barbara.
Of these, perhaps the most famous is Paso Robles. It is one of California's oldest wine regions, with a winemaking tradition that stretches back to the 1790's. It is known particularly for its rolling hills and valleys. Nearly four-fifths (80%) of the wines produced here are red varietals, including Syrah, Zinfandel, Cabernet Sauvignon and Merlot.
Another well-known AVA is Santa Barbara, which was the California wine region featured in the popular Hollywood film "Sideways." Santa Barbara is home to award-winning Pinot Noir, and some of the more famous AVAs that are nested within Santa Barbara are Santa Maria, Santa Ynez Valley and Santa Rita Hills.
Central Valley
If you see a wine bottle that is simply labeled "California wine," you can bet that it comes from the Central Valley. This wine region might lack the cachet and fame of Napa or Sonoma, but it is considered the state's workhorse wine region. In fact, while Napa accounts for less than 5 percent of total wine production in California, the Central Valley accounts for nearly 75 percent of all grapes used in wine production. This large region encompasses the counties of Sacramento, San Joaquin and Fresno.
South Coast
The South Coast includes everything south of Los Angeles to the border with Mexico. Given this broad geographic sweep of territory, it's not surprising that the geography and terroir can vary considerably. This ranges from cooler coastal wine growing regions to warm inland valleys. The most famous AVAs in Southern California include Malibu, Temecula Valley and San Diego County. Temecula Valley, with its 35 wineries and growing reputation for wine tourism, especially stands out as an example of how Southern California has grown in stature within the California wine industry in just the past decade.
It is important to note that every bottle of California wine must list its region of geographic origin, and there are strict guidelines that govern the geographic appellation. For example, in order to list a specific AVA (and not just a county or the state of California), 85 percent of the grapes used to make the wine must have been derived from that AVA. That is why a simple label like "California wine" is much less helpful than one that clearly states "Napa Valley." A "California wine" must consist 100 percent of grapes grown within the state, but there are no specifications about where exactly in the state. As a rule of thumb, though, a "California wine" designation means that the grapes came from the Central Valley.
If you are interested in wine tourism within California, just keep in mind that you should do your homework before embarking on your trip. There are over 1,200 wineries and more than 100 AVAs. In addition, wine is produced in 46 of the 58 counties in California, from far north in the state to the far southern border with Mexico.
If Pinot Noir is your favorite, then Sonoma or Santa Barbara should be your starting point. However, if you prefer Cabernet Sauvignon, then Napa Valley is far and away the best place to start. But there are wineries and wine regions for every type of wine drinker. While Cabernet Sauvignon and Pinot are amongst the two most popular grape varieties in the state, other grapes that rank highly include Chardonnay, Merlot, Sauvignon Blanc, Syrah and Zinfandel. Overall, more than 100 different grape varieties are grown in California, making it easily one of the most interesting wine regions in the world.
Related topics that might interest you:
Get rated by Quality, Value, and Packaging by the top trade buyers in the USA. Enter today and avail the early bird offer. Here is how to enter.