How Gold, Silver and Bronze Medals Convince Shoppers to Buy Wine
01/07/2021 Even if you are an experienced wine buyer, and know all the clues to look out for, seeing a Gold, Silver, or Bronze medal is going to reassure you even more - seven times more as it happens. 
Buying a bottle of wine, even for an experienced wine drinker, can be a bit of a lottery. Looking at a wine label is a bit like trying to decipher some sort of code as all the bits of information add up to tell you different things about the wine and whether it is any good or not. Or at least deserves the price being asked for it.
Compared to most other products you might be buying whilst doing your supermarket shop, buying wine is more a game of re-assuring yourself that the bottle you put in your basket is something you are going to like when opening it later. You don't have the same problem when picking up a jar of peanut butter, or a packet of Kellogg's Corn Flakes.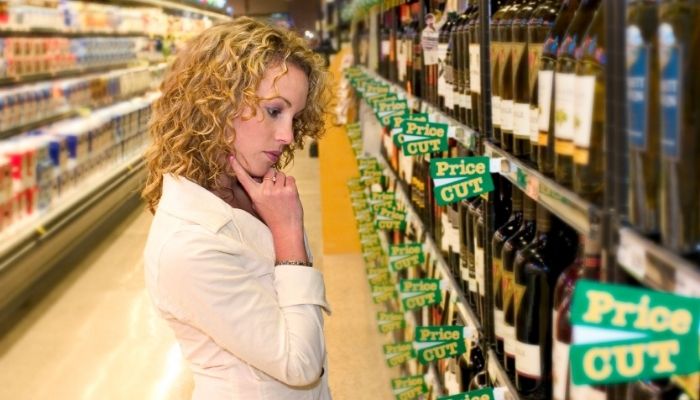 A shopper looking at wine bottles in the store
You might start by working out where the wine was made. The country or region will give you a clue as to what it might taste like. A wine made in a mainly hot country like Australia or Argentina is going to be much bigger and more alcoholic in the mouth than one made in a cool north European country like Germany or Austria. If a wine is made by a particular Chateau or wine estate, then the grapes will have come from their own vineyards and not bought in from all around. But does that make it taste any better?
Then there is the grape variety, which, for so many wine drinkers is the main clue they look for. But even then a Chardonnay from Australia is going to taste a lot different to one from California, Chile, or New Zealand. When the wine is made can also give you a clue. The older the date on the bottle, the longer it has had to age and potentially the longer it has to improve and get better. But then that is not always the case. This brings us back to the lottery again.
Only by drinking, buying, and trying can you slowly but surely learn enough ways to pick out the clues that help you solve the wine label puzzle.
Going for Gold
So what about all those Gold, Silver, or Bronze medals you see on a bottle of wine - how confident can you be in them? Well, very. It means that wine has been tasted and judged by independent wine professionals who have given it a score that matches up to the medal awarded.
For a consumer, it is often the one thing that really stands out and re-assures them that the wine they are buying is of gold, silver, or bronze status. In fact, a recent poll conducted in the UK found that having a gold, silver, or bronze medal on a bottle of wine can increase the chances it will be picked off the shelf by seven times, compared to a bottle with no sticker or commendation on it all.
Which makes the USA Wine Ratings competition such an important and breakthrough competition for wine producers, brand owners, distributors, importers, and the supermarkets and restaurants trying to sell the wine on their shelves, and in their wine lists.

Taste, quality, look, and cost
A competition that also goes much further than just judge the wine on how it tastes. USA Wine Ratings has been designed to assess and analyze wine in just the same way the average consumer, or the occasional wine drinker, would do. Yes, what it tastes like is crucial, but what it looks like and how much it costs are arguably just as important, as they are what will determine whether you even pick it off the shelf in the first place. Let alone take it home and drink it.
How does that bottle of wine speak out to you on the shelf? Even if you are an experienced wine buyer, and know all the clues to look out for, seeing a Gold, Silver, or Bronze medal is going to reassure you even more - seven times more as it happens.
Professional judges
What's more the judges deciding what medal to give to a particular wine are also the same sort of judges deciding which wines should go on the supermarket shelves you shop in, or on the restaurant wine lists you choose from. Professional wine buyers whose job it is, every day, to assess, analyze, and then cherry-pick the right wine from potentially 100s of alternatives to put on sale in their business.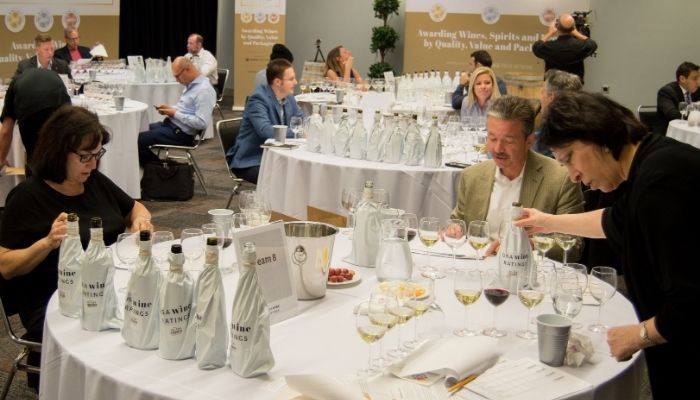 Judges at the previous event
Decisions that will ultimately determine how successful that company is. Those are the professional judges that the USA Wine Ratings competition has carefully recruited for its judging panels.
The fact the competition assesses each wine in the same way they do professionally is what makes it such a coveted event to take part in, with buyers ever hopeful of the call to be involved.
Peer approval
USA Wine Ratings also give producers, importers, and those entering the wines the chance to maximize any medals or trophies they might win, by allowing them to purchase as many medal stickers as they want - in rolls of 1,000 each - so they can make sure every bottle they are trying to sell carries the seal of approval from their peers in the industry.
Winning producers have also used the medals on their bottles when presenting them at trade tastings, exhibitions, and consumer dinners. So really taking their success in the awards and putting it in the hands of their potential customers.
USA Wine Ratings also now suppliers all its medal winners a series of press release templates that they can use to personalize and send out to their media contacts and influencers to help promote any medals they have won. It will also, in turn, pass on press releases the producers send out to its own media partners and, through the various trade platforms run by the event's organizers, The Beverage Trade Network, including BevRoute, Sommelier Business, and Bartender Business.