How can wineries build their online presence to drive delivery & curbside sales
18/06/2020 Increase your delivery & curbside sales with these 20 actionable tips.
Wineries are offering online tasting events. Distilleries are channeling into DTC sales. Breweries are going digital.
While the regular distribution channels were on a halt due to the pandemic, brands in the wine and spirits industry started focusing on increasing their sales by offering curbside pickup, delivery, and shipping. Now everyone from big retail chains to local wineries is moving this trend.
With increasing competition, how do you make sure your customers remember your brand? And how do you reach out to the new ones?
Here are 20 actionable tips for wineries, breweries & distilleries to build their online presence to drive delivery & curbside sales.
1) Define your USP (Unique Selling Proposition):
What makes you stand out? Create your uniqueness. To find that out, ask yourself these questions and answer them to find your USP.
What your target customers want?
What your competitors have to offer?
What different do you have to offer?
TIP: If you want to capitalize on your USP, one tip is to see what people are talking about your brand & what keywords they use. Now use those keywords in your marketing to attract more customers.
2) Introduce "Click & Collect"
Let customers order your products online & collect offline. Adding "Click and Collect" to your website ensures easy pick-ups for your customers with hassle free payments and no delivery charge.
And while people are browsing through your website, they might end up buying more wines, beers or spirits from you.
TIP: Even if you don't have an e-commerce website, you can still ask your customers to text or call for orders and you can confirm their orders via online payment methods.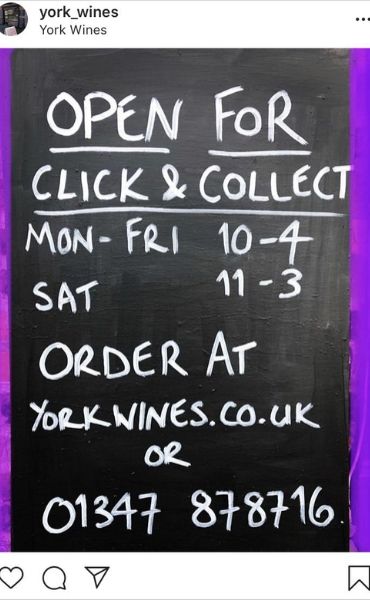 @york_wines on Instagram
3) Be ready for Voice Search
"Alexa, which wine will go with Spaghetti all' Arrabbiata?"
Voice Search has already become popular with products by Google and Amazon. By 2024, the global voice-based smart speaker market could be worth $30 billion. (source: Quoracreative)
Start here—
Nearly 20% of all voice search queries are triggered by a set of 25 keywords. These are —How, what, best, the, is, where, can, top, easy, when, why, who, new, recipe, good, homes, make, does, define, free, I, list, home, types do. Utilize these and make your website copy.
4) Collaborate with a local restaurant
Here's how it will work. To stand apart from your competition, you should always provide an experience to your consumers. In this case, that experience is "Convenience".
Partner up with a restaurant so that when consumers order wine/beer/spirits from you they can also get food delivered from that restaurant and vise versa. The convenience here is "getting food and drinks together."
This will benefit in two ways —
First, new customers referred by restaurant to you and,
Second, you'll be able to increase DTC Sales.
5) Utilize Online Directories & Listings
Online Directories are a great way to spread the word online and make your product/service visible in your neighbourhood.
List your winery/brewery/distillery on getdrinksdelivered.com, an online portal for the alco-bev industry to grow their delivery and curbside pick-up sales.
With Getdrinksdelivered.com, you can
— Connect with consumer directly⠀
— Grow your pick up and delivery sales in your area⠀
— Develop new delivery branches globally⠀
— Boost your product marketing awareness⠀
Register before July 31 for free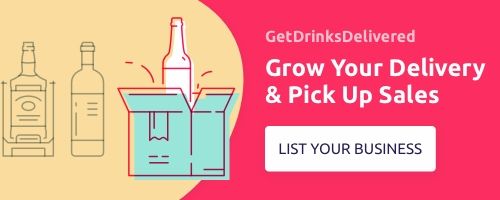 6) Cross-sell & Up-sell
Ecommerce techniques like cross selling and up selling can be used by wineries, breweries, distilleries to increase the value of a sale.
You may think, "What are these techniques? And what is the difference between them?"
Upselling encourages customers to spend more than what they're currently spending.
Cross-selling invites customers to buy related or complementary items.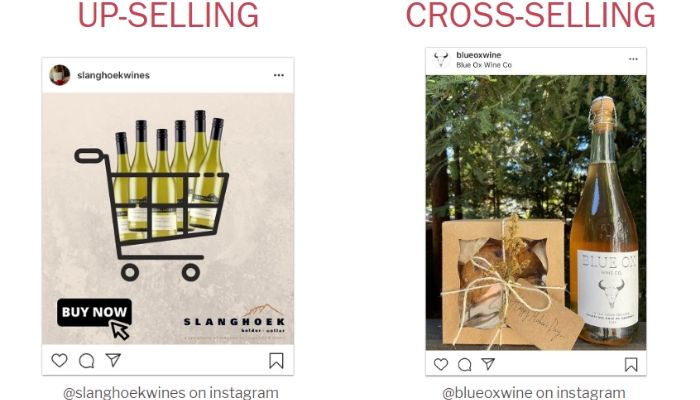 7) Use "Email Marketing" the smart way
According to Statista, global email users are expected to grow to 4.3 billion in 2022. Email Marketing still remains one of the most popular profit-generating sources.
Start with —

- Collect abandoned cart emails & send them an extra 5% off via newsletter or email.
- Share testimonials, weekly wine update, the story behind your brand. This will really help them connect to you better.
- New product announcements, delivery options, curbside timings or any information that will make their ordering process a smoother one.
- Send your email as a one column template for an easy mobile view.
8) Focus on Personalised Marketing
Doesn't it feel good when you visit your local bar and the bartender knows your favourite drink? That's personalization.
When you know your customer so well that they feel valued and know that they're important to you, as a brand. But it's impossible to talk to everyone of your customers. Right?!
By using data you can easily analyse your customer's buying habits. Find trends in orders that you get.
For example, if most of your customers come for a pick-up during morning hours, then offer a discount during those hours to attract more customers that fall under the same category.
9) Integrate "Live Chat" to stay connected
62% of customers are inclined to purchase products online if live customer support is available. (source: Happybox)
Live chat also reduces the abandoned cart orders. You can easily integrate chats like olark or happybox in your website or you can also use facebook's messenger box.
For local customers, give them the convenience of text or call.
To sum up, you have 3 options: (1) Integrate live chat on your website (2) Activate Facebook messenger (3) text/call
10) Generate "Social Proof"
According to Salesforce, 54% of consumers trust information from online reviews and recommendations from their peers.
When people see other people drinking your merlot or your seasonal ale, they become more confident in their choice.
Ask your customers to share videos, photos and their product reviews and give them an extra incentive (eg 10% off on next purchase) to attract more content.
Now use this content to increase your delivery and curbside orders.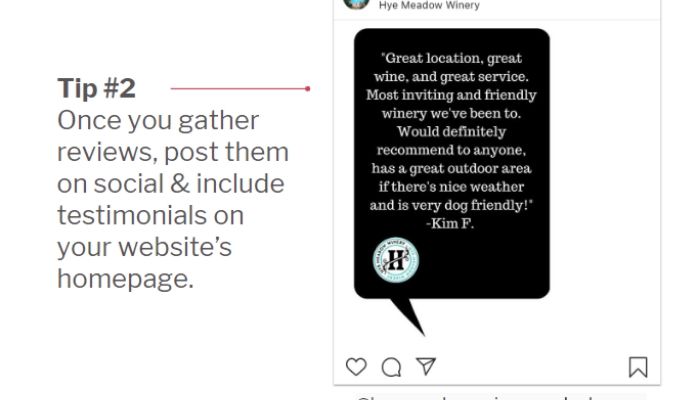 11) Activate Instagram Selling
84% of consumers will buy from a brand they follow on social media over a competitor.
Now what if you directly sell on social? Activate your Instagram selling account and with likes and engagement, you will also see an increase in online sales.
To increase curbside pick-up sales too, Instagram selling can be a great medium for you.r brand.
After you set up your Instagram selling account, promote it via geo-targeted ads and with the correct hashtags attract local customers every day.
12) Use Facebook Store
As of April 2020, Facebook still ranks #1 in the most popular social networks worldwide list.
With facebook's global 2498 million active users, setting up a Facebook store can be helpful for your business too.
Tips to increase your delivery and pick-up sales with Facebook store.
● Use Facebook store as your first touch and then use Facebook ads to convert sales.
● To attract more customers, start posting more videos as Facebook analytics has been seen to promote videos more than any other type of content.
● Reach out to local influencers that have a good following on Facebook.
13) Use the holiday period to boost pickups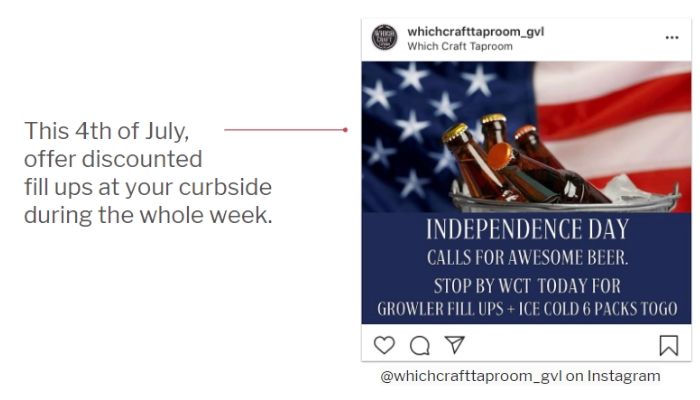 In 2019, E-commerce sales hit a record high this year with more people doing their holiday shopping online, according to Mastercard.
And in 2020, this number is only going to increase!
Start with—
-Include countdown for offers on your website to create urgency.
-Create a landing page of special holiday offers.
-People tend to buy in large quantities during the holiday period so bundle up products during the important days.
-Use Facebook ads during the holidays targeted to your neighborhood for more curbside pick-up sales.
14) Host virtual tasting events
As we move towards a world with more DTC sales, it is crucial for you to redefine your communication with your customers in a more personalized way.
A normal winery tour includes a walk in the vineyard, a look at the wine-making process, and a sip of the flagship varietals offered.
And a virtual tour replicates this experience for consumers via a 360-degree tour of the vineyard, a video explaining the wine-making process and includes an expert demonstrating the experience that consumers normally get at an actual tasting event.
Start with —creating a virtual tasting kit and promote it with 4th of July marketing.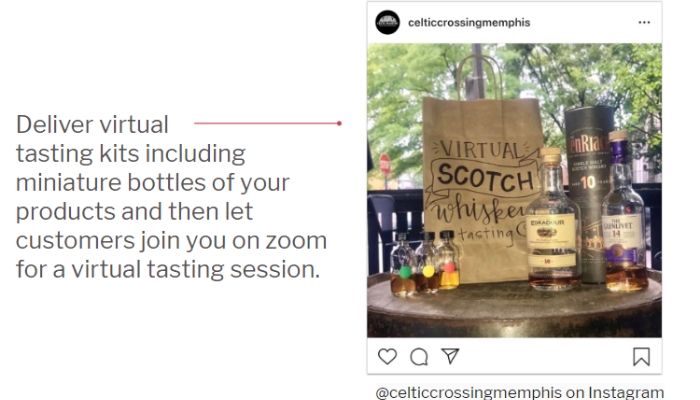 15) Be ready for mobile
More than half of all online shopping is expected to happen on mobile devices by 2021 (source: Statista)
Make your website mobile friendly and have a responsive design for a smoother customer experience.
Start with—
- Have a bigger add to cart/buy now button on your website.
- Send all your newsletters as one column to appear bigger in mobile.
- Make sure the load time of your website is minimum. (TIP: Check your website's load time on - PageSpeed Insights by Google Developers)
- Make sure your desktop URL and mobile URL are the same.
16) Slide into DMs
Start engaging with your customers via DMs on Instagram and Facebook.
Direct messages are more effective compared to social posts as they directly grab the viewer's attention. You can offer your special/repeat customers a special discount via DMs.
You can also ask for feedback from customers who place orders online.
17) Reevaluate your portfolio
You must look at your product list and compare it with the number of orders you received over the past quarter and streamline them.
By data, you'll know the fast-selling and slow-selling products.
For fast selling products, upsell them and offer large quantity discounts.
For slow-selling products, cross-sell them by offering merchandise or food with it.
18) Offer Loyalty Programs & Club Memberships
DTC sales have been steadily increasing over the past year and club memberships have been a big reason why.
With many states and countries opening up the industry by allowing direct sales from producers, execs are looking to find ways to make their clubs more attractive and increase online sales.
Start with —
● Give customers a discount on their 1st order after signing up for the club.
● Introduce a monthly subscription box exclusive for club members.
● Include FREE merchandise with 1st orders after customers take the club membership.
● Offer club rewards to active members or long term loyal customers. A little goes a long way.
19) Influencer outreach / Brand Ambassador

89% of brands say ROI from influencer marketing is comparable to or better than other marketing channels. (source: bigcommerce)
In the typical influencer marketing strategy, a brand reaches out to social media influencers with thousands – if not tens of thousands – of followers on platforms such as Instagram or Twitter, asking them if they would like to become a brand ambassador for their wine, beers or spirits.
They can help you move your products in their community and followers.
20) Rethink your payment options
What most people want is a smooth buying process and if that is delayed, the customer may not be motivated to complete the transaction and then end up not buying your wines, spirits or beers.
46% of US Smartphone Market Share is captured by Apple. With credit cards and PayPal, you can also keep your Apple Pay open for accepting orders.
If you have multiple payment options, you're offering your customers "CONVENIENCE" of a fast checkout process. This ensures and promotes repeat purchases.