COVID-19 Business Adapt: 10 Ideas For Wineries & Distilleries To Sell
20/04/2020 As a winery, distillery, or brewery, you need to figure out how you're going to get your bottles to the consumers. They want it; the tough part is how are you going to sell right now?
The COVID-19 virus outbreak has undoubtedly affected sales of drinks across the industry. But the good news is that people are still drinking. Of course, they aren't drinking at restaurants anymore, since most are shut down, but they are definitely stocking up at home. In fact, according to some bartenders, people tend to drink more during such times.
"I think any kind of circumstance about stuff happening around the world makes people drink more because if they're happy, they drink and if they're sad they drink," said Dan Fisher, Bartender at The Ned London in an interview with Beverage Trade Network.
So as a winery, distillery, or brewery, what you need to do is figure out how you're going to get your bottles to the consumers. They want it, the tough part is how are you going to sell right now?
We're breaking down episode 2 of the COVID-19 Business Adapt podcast, in which host Sid Patel, CEO & Founder of Beverage Trade Network shares 10 ideas in which wineries, distilleries, and breweries can sell right now.
Partner with local restaurants
Restaurants are in full force with their deliveries, and customers are ordering frequently as well. Talk to local restaurants in your area and see if you can help out. It's like you would be pushing their food and they would be pushing your wines and spirits. It's a win-win situation for both of you. Here are a few ways in which you can work with your local restaurants
Help out with deliveries. Offer your delivery vans, especially when your drinks are being sold with the food.

Push the restaurants on social media, and ask them to do the same. It's the best way to get both your customers to see that you're working together.

Offer the restaurants solid deals and discounts on your drinks. Offer them cheaper cases, see if there is anything else you can do with deals and discounts. You can create food and drink combos with their menu as well with a killer deal for customers.
---
BTN Online Course: China Wine Sales: How to get importer to end consumers - Register Today | Fee: $50
---
Create content that buyers and consumers are consuming
See what customers and buyers want right now. People are spending a lot of time online, and right now is the best time to let them consume your content. Here's the type of content you should be creating:
Be a local outlet for your community. Give them the latest legislative and legal updates about your area, tell them what grocery stores are open, tell them what restaurants are open. Basically, you need to give your audience the news they want. They do not want general stats, they want what is relevant to their area, so make sure that is the news you shell out to them.

Talk about your story. Everyone likes to know how your brand came about. Tell your audience about your origin story, share your passion with them, tell them how you started and the tough parts of your journey and how you got through them.

Talk about your current situation. Tell your audience about your current situation. Let them know about your ways of sanitation. How your wines and spirits are being treated, the procedure your staff goes through when they enter your outlets. It is important for the audience to know that it is safe to buy from you right now. Assure them that you are taking all precautionary steps to make buying safe for them.
Hold contactless tastings
Set up a wine tasting area, open up a few bottles and invite guests. Make sure your placements are done in the 6ft social distancing measures where people are safely distanced from each other. Get glasses that they can throw away after the tasting.
You can also then set up a buying area beside your tasting, making sure it's completely contactless. Have a money bank or a box where people can pay in. Make sure your prices are all rounded up so there is no issue with change. You can also offer a call and pay method where the consumer calls, enters their card details and pays. Make a video of all these things and post them on your socials and promote your contactless tasting accordingly.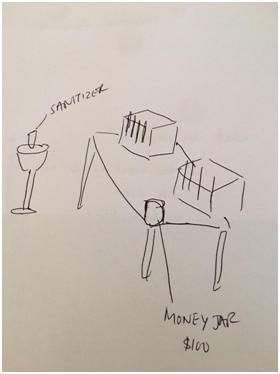 Benefit schemes for customers
We've already established that people are still going to be drinking. However, they might just need the extra push. Create benefit schemes for your customers, which will persuade them to buy wines and spirits from you. The point of this is to convince them to continue buying from you and remember you even afterwards.
Offer them special discounts on your wines and spirits if they shop with you during april & may.

Create a benefit portal for them to come back to. For example, if they buy from you during the month of April, then they'll receive a free tasting, or a coffee, or maybe a complimentary bottle when they come back.
Curbside pickup
Create a mini grocery shop in your parking lot with cheeses and other food pairings that you can offer to customers, and make it contactless. So make sure things are packed separately, and there is a money bank for customers to drop their cash in. Change could be an issue as people might not want to touch your change, so create bundles and round them up. Eg. if you have a $14 wine, then add a $6 cheese to it and make it a $20 bundle. Make sure everything is packet individually so no one is touching things they do not want.
Product listing across the internet
We know that the internet is very powerful, and you can use it to your advantage during this time. Spend some time and list your products on websites that are offering listings. For example, on May 1, Beverage Trade Network is launching a service called Get Drinks Delivered. You can easily sign up and through this customers in your area will reach out to you for deliveries. So take some time out and register yourselves on places where you can list your wines, beers, and spirits.
Partner with your local businesses for ads
This is where you need to go a bit old-school. Remember those times when you would put up ads at the laundromat and grocery stores? That's exactly what you have to do. Talk to local businesses and ask if you can put up your ads. Make sure that your ads are bold and simple. Just put big and bold signage and a simple message like "12 bottles for $100 with delivery included", and add your number to it and the calls will definitely come in. People want to stock up, so you can also offer larger cases like a 5 case deal with delivery.
Stock up with stores
Talk to your local grocery stores and see if you can set up your carts outside or even in-store. Make deals with them for food pairings and sell a bit along with that. Do your marketing and the store's marketing together so it works for both of you.
Talk to your customers through social media
Dm your customers on instagram, facebook, and LinkedIn and tell them about the offers you are running. Tell them what you are doing, where you're delivering, and how you're delivering. Give them things to order at a cheaper price and stay in touch with them.
Old fashion telesales
Lastly, old fashioned telesales. This never fails. Pick up your phones and get to cold calling. Tell customers you'll offer free and contactless delivery along with your wines, tell them you will give them good deals and offer those deals to them. Eg. You could tell them to order in the next 2 days and get 2 bottles free.
In the end, you don't want to sit at home and watch sales drop, so it's better if you walk the extra mile and try getting those sales.