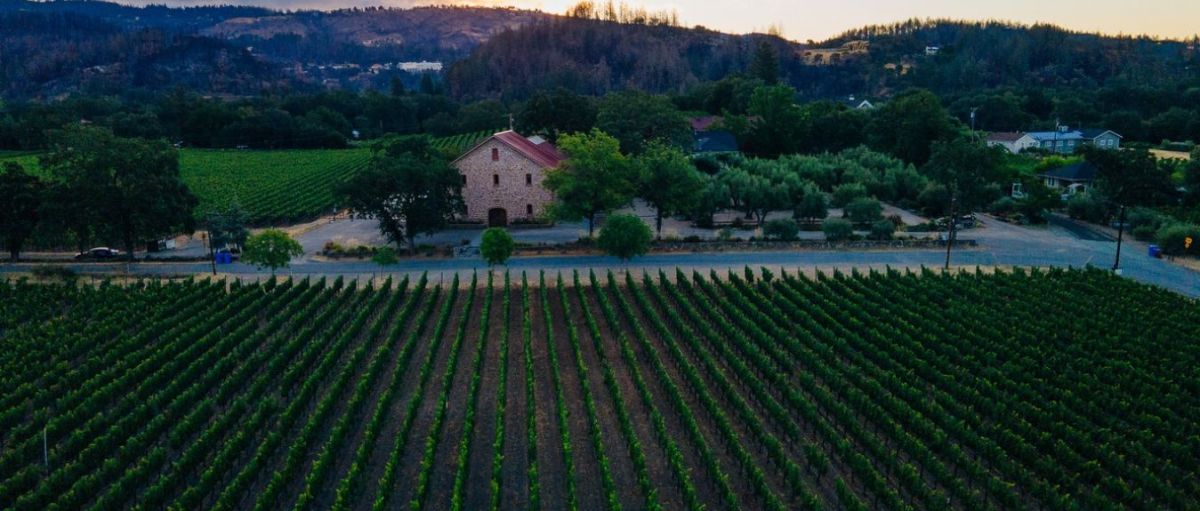 Experience Eco-Friendly Wines From The Napa Valley
13/07/2022 Relax and take a sip of the finest quality wine produced from the eco-friendly vineyards of Napa Valley!
When you know that the wine you are sipping is not only good on your palate but also good for the earth makes the experience even better. Fortunately, that type of eco-friendly experience can be easily found in Napa, a region with a rich history of environmental preservation. The county became the nation's first "agricultural preserve" more than 50 years ago, thus paving the way for the land to remain as picturesque as it is now rather than being trampled by development.
You can still enjoy the wonderful Napa countryside, with its stunning rolling hills, beautiful meadows, and lush greenery, due to the bold laws related to environmental conservation. Several of Napa's vintners are still dedicated to protecting their environment through sustainability efforts. Napa Green, an environmental certification program that acknowledges vineyards for their environment-friendly operations from soil to bottle, has certified over a quarter of the county's 500 wineries. Moreover, the organization has also developed some sample wine tasting tours to help visitors who want to support these sustainably committed vineyards.
You can explore these 6 greenest vineyards of Napa:
Sustainable and socially responsible techniques influence almost every part of this extremely attractive 42-acre vineyard in Saint Helena. These techniques help to preserve the fruit's purity and character, resulting in outstanding wines with a true feeling of location. The Ehlers Estate vineyard, which produces outstanding Cabernet Sauvignon, Merlot, Cabernet Franc, Petit Verdot, and Sauvignon Blanc, is now farmed according to strict organic farming standards.
[[relatedPurchasesItems-44]]
They also received the organic certification from the California Certified Organic Farmers (CCOF) on July 1, 2008, after three years of proven organic farming. You can enjoy the views of the vineyards while their expert team prepares a sample of the most sought-after and limited-production Cabernets for your tastings. Ehlers Estate's Ehler Estate 1886 red wine has won the double gold and the best red wine of the year award in the Sommeliers Choice Awards 2022, which is one of the most prestigious awards for wine companies.
Trefethen Family Vineyards blends history, conservation, and exceptionally good wine, giving their customers a taste of both old-world Napa and advanced farming methods. The three-story wooden winery was established in 1886 in the Eschol Ranch and was later purchased by the Trefethen family and they started making the best Chardonnay. Since that time, the wine has been produced exclusively on the estate, which means not a single grape was purchased from any other vineyards.
Loren and Hailey Trefethen, the family's next generation, now run the vineyard by preserving the family's objective of being responsible land owners. They use natural methods in their vineyards, such as bringing in barn owls and bat boxes as they can act as natural pest control, irrigating with recycled wastewater, and employing their vineyard workers year-round with comprehensive benefits. Moreover, their vineyard is also completely solar-powered! Trefethen Family Vineyard's Merlot was awarded the Wine of the Year by Varietal in the Sommelier's Choice Award.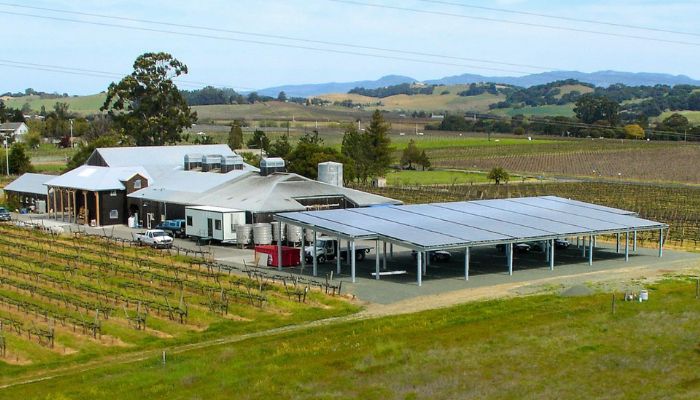 Image Source- Saintsbury Winery
Saintsbury is a hidden gem in Carneros and it first opened its doors to its customers in the 1970s. Visiting their winery can be an extremely satisfying experience. You can just sip your chardonnay or pinot noir on their patio, surrounded by flowers and magnificent landscapes. You can also play with their winery dogs or watch bluebirds flock to the boxes designed particularly to encourage their presence for natural pest management, overall it can be a very relaxing event.
The vineyard also has a 7,000-square-foot solar array, generating most of the property's energy. Saintsbury also has their electric vehicle charging stations and uses BioFiltro, an advanced wastewater filtration system that repurposes waste streams into usable water. To improve their sustainable practices they also use recycled water for vineyard irrigation and recyclable packaging materials.
When you arrive at the stunning St. Supéry Estate in Rutherford, the first thing you'll notice is the luscious garden that spreads across the front lawn, which is used for demonstrations and interactive tasting experiences. It's a great first impression that reflects the winery's mission: to produce wine, fruit, vegetables, and more in an environmentally friendly manner. St. Supéry has shifted towards using 100 percent recycled water in recent years and now generates almost 80 percent of its electricity from solar panels.
The vineyard has also managed to keep two-thirds of its land for biodiversity purposes. The wines produced here are entirely estate-grown, which means they have complete control over what goes into every bottle. You can relish and drink their finest sauvignon blanc and cabernet sauvignon completely among nature.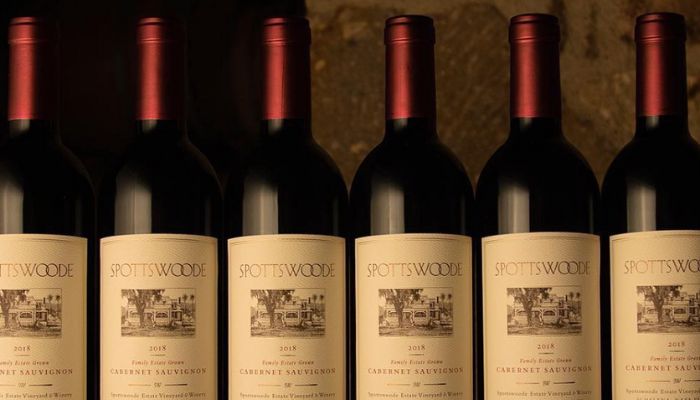 Image Source- Spottswood Estate
A winery operated by a woman and is based in the western part of St. Helena was one of the first in Napa Valley to adopt organic principles in 1985 and it received the California Certified Organic Farmer (CCOF) in 1992. Mary Weber Novak purchased the 40-acre property in 1972, making her one of the first women to oversee a large winemaking estate in Napa Valley.
Today, her two daughters, Beth Novak Milliken and Lindy Novak manage the vineyards with the help of experts who apply biodynamic practices such as composting, planting cover crops to enhance the valuable "alluvial" clay soil in this area, and incorporating the lunar calendar. Spottswoode is well known for its cabernet sauvignon, and tastings are an intimate encounter that will offer you an insight into their wines.
Ron and Diane Miller, along with her mother, Lillian Disney, founded Silverado Vineyards in 1981 to produce wines from their historic estate. The winery has been named after its historic vineyard and the vineyard got its name from an abandoned mining town located at the top of the Napa Valley. Silverado Vineyard is a gem in the heart of the Stags Leap District and it is in its fourth decade of developing estate-grown, produced, and bottled fine wines.
The vineyard offers one of the finest Cabernet with the sweet fruity flavors of plum and black cherry that have an acidic structure on the palate with hints of fine-grained tannin. Every decision that is made in the vineyard is based on sustainability to guarantee that the winery and estate are here for future generations of guests, neighbors, and the Miller family to enjoy. They protect nature by conserving energy through solar power and saving water with the help of novel irrigation procedures. Since 2008, these ongoing efforts have reduced the winery's carbon footprint by nearly half. Silverado continues to deploy cutting-edge technology to increase efficiencies and expand its use of renewable energy, to become carbon neutral within the next decade.
If you are interested to know more about different types of wines and where they are produced in the USA you can visit the website Beverage Trade Network. You can also know about the award-winning wines that you can enjoy with your friends and families visit Sommelier Choice Award.
Written By Aparna Dutta, Beverage Trade Network
Submissions for the 2024 USA Wine Ratings are now open. Enter your wines today at the lowest price. Here's how to enter.