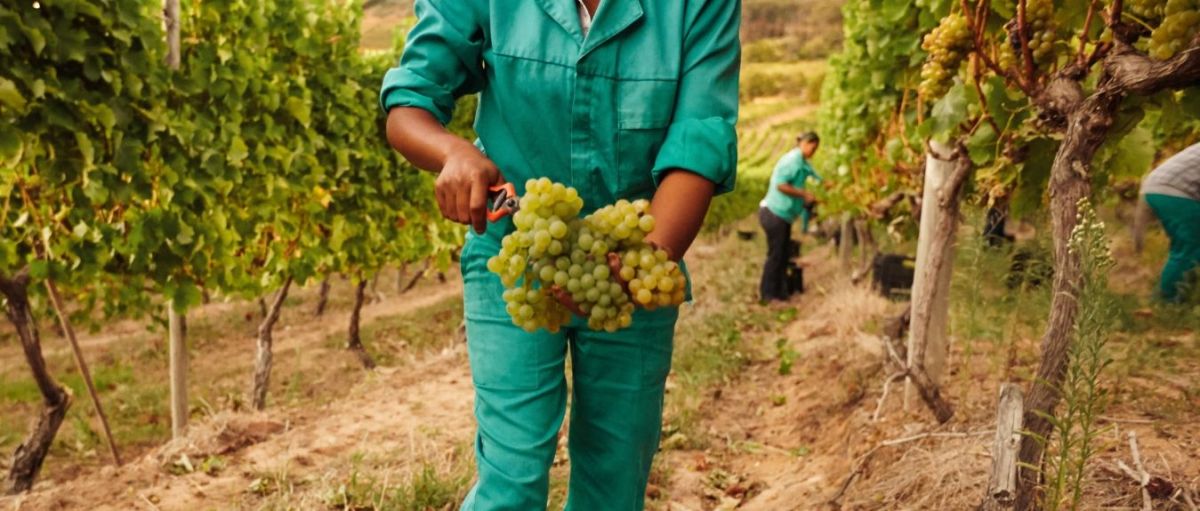 The Most Popular Types of White Wine Grapes
02/03/2021 Here is a list of 20 different white wine grapes that are extremely popular around the world.
While a handful of white wine grape varietals – such as Chardonnay, Sauvignon Blanc and Riesling – may get most of the attention from wine enthusiasts, there are actually 20 different white wine grapes that are extremely popular around the world. Here's a closer look at each of them, with a focus on which wine regions produce the best wines with these grapes.
Chardonnay
Chardonnay is one of the world's most popular white grape varieties, and wines made with Chardonnay can be found on just about any wine list in the world. The legendary Burgundy wine region of France is traditionally acknowledged as the home of Chardonnay, although Chardonnay wines from California and Australia are also popular. Californian winemakers began experimenting with a Chardonnay to rival those from Burgundy in the 1960s, and by the mid-1970s had created wines that were the equal of any from Burgundy.
Sauvignon Blanc
Sauvignon Blanc is a white grape variety best known for its crisp, dry and refreshing white wines. The traditional home of Sauvignon is in France, especially within the wine-growing regions of Bordeaux and the Loire Valley. Sauvignon Blanc is very expressive of the local terroir, and can range in flavour from grassy to sweet, and in aroma from floral to fruity, depending on whether the grape is being grown in a cooler or more tropical climate.
Riesling
In terms of wine production, Riesling ranks among the top three white grape varieties worldwide (along with Chardonnay and Sauvignon Blanc). The traditional home of Riesling is the Rhine region of Germany, especially the wine-growing sub-regions of Mosel and Rheingau. Riesling wines are noteworthy for being highly aromatic and high in acidity, usually with floral or tropical fruit notes. Unlike other grape varieties, Riesling is almost never blended with other grapes.
Pinot Gris
Pinot Gris (also popularly known as "Pinot Grigio") is a white grape variety that is part of the Pinot family that includes Pinot Blanc and Pinot Noir. The berry skins of Pinot Gris tend to be rose-coloured, and the resulting wines are often deep golden yellow in appearance. There are two main types of Pinot Gris wines. Within France (and especially Alsace), the wines are spicy and full-bodied. Within Italy, however, the Pinot Grigio wines are lighter-bodied and more acidic.
Semillon
Semillon is a golden-skinned grape that is used to make both dry and sweet white wines. The most famous Sémillon wine producers, such as Château d'Yquem, are based in France's legendary Bordeaux wine region, where they make Sauternes sweet wines as well as dry white blends known as Bordeaux Blanc. In addition to Bordeaux in France, Sémillon can be found in Australia, New Zealand, Chile, South Africa, and Argentina.
Gewurztraminer
Gewurztraminer is a white, aromatic grape variety that is named for a German-speaking province of Italy. However, the traditional home of Gewurztraminer is Alsace, the French wine region located along the German border. In addition to Alsace, Gewurztraminer can be found across Europe in Germany, Austria, Italy and Eastern Europe. Gewurztraminer wines are known for having aromas of lychee, roses, passion fruit and flowers.
Viognier
Viognier is a white grape variety that is most commonly grown in France, California and Australia. The traditional home of Viognier is the Rhone wine region of France. Over the past two decades, however, California's Central Coast has emerged as an important new producer of Viognier wines. White wines made from the Viognier grape tend to be full-bodied, with a lush, soft character.
Chenin Blanc
Chenin Blanc is a white grape variety most closely associated with the Loire Valley of France. In the 21st century, however, South Africa has surpassed the Loire Valley as the world's top producer of Chenin Blanc wines. Within France's Loire Valley, the best examples of Chenin Blanc come from Anjou, where it produces dry white wines with notes of apple and quince, and Vouvray, where it produces off-dry white wines with floral notes and honey-like flavours.
Gruner Veltliner
Gruner Veltliner is a white grape variety that is generally considered to be the national grape of Austria. In fact, Gruner Veltliner now accounts for one-third of all vineyards in Austria, with most of them clustered in the northeast of the country. The best Gruner Veltliner wines come from three Austrian wine regions – Wachau, Kremstal, and Kamptal – that are located along the steeply sloped terraces of the Danube River.
Torrontes
Torrontes is a white grape variety that is grown almost exclusively in Argentina, where it is used to create fresh, aromatic wines with moderate to high acidity and a very smooth texture. Aromas from the best Torrontes wines include peach and apricot. In terms of drinkability, Torrontes wines are most similar to those made from Muscat grapes.
Muller-Thurgau
Muller-Thurgau is a white grape variety that traces its origins back to 1882 when a Swiss-born professor crossed Riesling with Silvaner in Germany's Rheingau region. Muller-Thurgau is a classic example of the "new breed" of grape that has emerged since the end of the 19th century. Within Germany, Muller-Thurgau is now the second-most planted grape, trailing only Riesling.
Silvaner
Silvaner is a white grape variety that is primarily grown in western Germany and the French wine region of Alsace. It became extremely popular in the decades after the end of World War II as one of the grapes used to make the German wine Liebfraumilch. However, after a peak of popularity in the late 1960s and early 1970s, Liebfraumilch fell out of favour, and so did Silvaner. Silvaner remains the third-most popular white grape variety grown in Germany, trailing only Riesling and Müller-Thurgau.
Pinot Blanc
The traditional home of Pinot Blanc is the northeast of France, in the Alsace wine growing region. In addition, Pinot Blanc is grown in France's famed Burgundy wine region. Outside of France, Pinot Blanc is also popular in the Baden and Palatinate wine regions of Germany (where it is known as Weissburgunder), in Austria (where it is known as Klevner), and in Spain and Italy (where it is known as Pinot Bianco).
Muscat
Muscat ranks among the oldest domesticated grape varieties, with its history stretching all the way back thousands of years to the ancient Egyptians and Persians. There are actually 200 different types of Muscat grapes, but only four primary types typically used to make wines: Muscat Blanc à Petits Grains, Muscat of Alexandria, Muscat of Hamburg and Muscat Ottonel. As young wines, they tend to have aromas of citrus, rose and peach.
Airen
Airen is a white grape variety that is traditionally found only in its native Spain. Currently, Airen accounts for 30% of all grapes grown in Spain. This grape is typically found in the hot, dry growing conditions of central Spain, especially wine regions such as La Mancha and Valdepeñas. In terms of planted surface alone, Airén is now No. 3 in the entire world (trailing only Cabernet Sauvignon and Merlot).
Roussanne
Roussanne is a white wine grape found primarily in the Rhône Valley wine region of France. There, it is often blended with Marsanne in order to create a highly aromatic white wine. The name "Roussanne" is derived from the French word roux, which means russet in English. This refers to the colour of the golden, reddish-brown berries when Roussanne ripens. Roussanne wines are known for their flowery, herbal tea aromas.
Garganega
Garganega is an Italian white grape variety that is primarily found in the Veneto region of northeastern Italy. Garganega is now one of the six most popular white grape varieties in Italy, where it is primarily known for its role in the creation of Italy's crisp white Soave wines, which experienced a huge spike in popularity amongst wine drinkers in the 1960s and 1970's.
Verdicchio
Verdicchio is a white grape variety that is primarily found within the Marche region of central Italy. The name Verdicchio is derived from "verde," the word for green. This is a reference to the slightly green-yellow hue of classic Verdicchio wines. Verdicchio wines are characterized by their lack of colour, high acidity and citrus (including lemon) note. Some Verdicchio wines also have distinctive almond notes.
Marsanne
Marsanne is a white grape variety most commonly found in the northern Rhône wine region. In addition, this grape variety can be found within France within the Savoy and Languedoc wine regions. Marsanne is the principal grape used in the distinctive wines of the Hermitage, Crozes-Hermitage, and Saint-Joseph AOCs.
Albarino
Albarino (also known as "Alvarinho") is a white grape variety that is primarily found along the North Atlantic coastline of Spain and Portugal. Spain's Galicia region is the traditional home of Albarino, especially the Rias Baixas DO, where it accounts for nearly 90% of all grapes grown. Across the border in Portugal, the Vinho Verde wine region is the home of Albarino grape production.
The true depth and variety of any restaurant wine list can be judged by the diversity of the white wines that are available. While Chardonnay is often the most popular choice, there are many other options if you are interested in experimenting with different white wines produced around the world, from Australia to California.
Enter your brands now and get in front of USA's top buyers. Get your brands rated by Quality, Value and Package. The submission deadline is June 30.