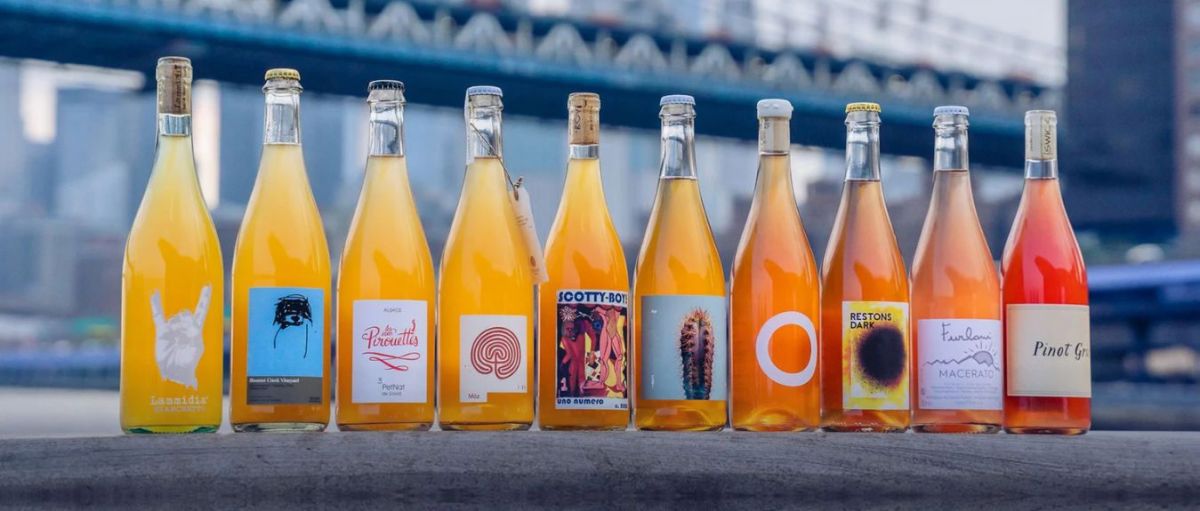 Orange Wine is Becoming the New Rosé
10/08/2022 Subtext- People are falling in love with the refreshing orange wine & filling up their Instagram feed with the bright-colored wines. 
When you thought wine could be neatly divided into white, red, or rosé categories, orange wine popped up! And it certainly made an impression! Natural wine enthusiasts have developed a fan following for orange wine. Bottles of vibrantly colored wines that appear fluorescent in the glass can be seen on Instagram feeds and in independent wine stores.
You might be unsure of what you're getting into, given the rise in the number of restaurant wine lists and chalkboard menus at natural wine bars that have headings like "Amber Wine," "Skin Contact," or even "Macération."
Many might assume that orange wine is made from oranges, but it is not the case. Orange wine is made from white wine! But how does white wine acquire a striking orange hue?
How Orange Wine gets its Appearance?
Pigment, flavoring agents, and tannin are found in grape skins (a type of phenolic compound). The winemaker must decide if they want the skins to affect the wine's appearance, flavor, and mouthfeel. White grapes are used to make orange wine, hence the term "skin-contact white wine" for the beverage.
The production of orange wines can occur in light and crisp styles with barely any tannin. They can also be rich and structured like a well-aged red or full-bodied and aromatic. With such a wide range in color, the category is taking over traditional restaurants and natural wine bars. Some wines are slightly more golden than a standard white, while others have a rich hue that is more red than amber.
To make orange wine, a winemaker crushes white grapes and leaves the skins and seeds to mix with the juice for a while. The winemaker doesn't press the grapes and removes the skins right away to extract the clear juice. The juice then absorbs color, flavor, and tannin throughout this maceration process.
Depending on the winemaker's objectives for the wine, the maceration process may last anywhere from a few hours to several months. The longer the maceration, the greater the extraction and the greater the impact of the skins on the wine's appearance, aroma, and structural qualities.
The intensity of the finished wine is also influenced by terroir, vintage, grape variety, grape skin thickness, and the winery environment. Furthermore, not all white grape varietals may be used to make orange wine. The winemaker will consider all of these cultural, environmental, and physiological factors when calculating maceration times.
Red grapes' skins make all red wine (most rosé). Rosé is exposed to the skins for a shorter period using this procedure, giving it a softer, more pink-toned color than the strong rouge tones of red wine. Orange wine is essentially the red wine version of white wine due to its crush-and-macerate winemaking technique. Although orange wine may appear to be a new or experimental style, it is more of returning the ancient winemaking process.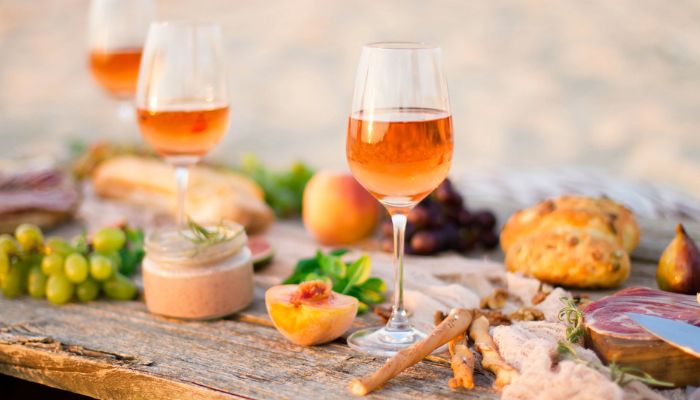 Image Source- Field Recordings Wine
The Increasing Demand for Orange Wine
Today you will get orange wine across the world. Almost every bar and restaurant keeps orange wines to cater to customers' requests. The Red Hook Tavern in New York has seen a rise in demand for orange wine, and it is one of the most popular pubs. They have started selling more orange wine than a rose.
Most orange wines are natural because the recent history of white grape skin-macerated wines is closely linked to the natural wine movement. However, thousands of wineries are now producing orange wine around the globe.
Also, the category is expanding far beyond the natural wine niche due to increased consumer awareness and a wider range of products now available in the market. Nice Matin also finds room on the restaurant's Grand Award-winning, book-thick, traditional wine list.
The list features a large selection of Bordeaux and Burgundies to accommodate guests interested in trying orange wines. They have a wide range of orange wines that are listed regionally.
Simon J Woolf, the author of Amber Revolution, the first book dedicated to orange wines, published not even five years ago, says, "it is the new normal". He further said in his book, "I've lost count of the number of times I sit down in a random wine bar, and the table next to me asks for orange wine. That never happened even a decade ago."
Sommeliers and wine buyers can benefit by stocking more unique wines as the orange wine category diversifies and consumer interest increases. By developing a better understanding of the new variety of available styles, they can also successfully present them to consumers.
Aromatic or Not!
Whether orange wine is made from aromatic or non-aromatic grapes is a good indicator of the wine's style. Skin contact is primarily about texture and structure in orange wines derived from neutral grapes like Chardonnay, Pinot Blanc, or Aligoté. Tannins and phenolic compounds are extracted from the grape skins.
Still, because there aren't as many compounds like terpenes in the skin of these grapes, the wine does not get any additional aromatic complexity.
Skin contact with Gewürztraminer or Muscat adds a completely new dimension. Deeper tones create a great counterpoint to these varieties' exuberant, aromatic character. It also successfully adheres to numerous North American hybrid white grapes such as La Crescent or other Muscat-influenced varieties.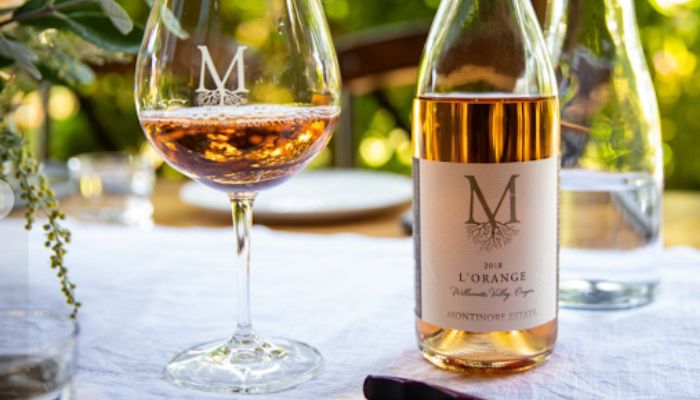 Image Source- Montinore Estate
Selling a Diversified Category
Orange wines include barrel-aged Austrian Pinot Blanc and a deep, dark Pinot Gris and Gewürztraminer combination. But when studied closely, they differ from a Barolo and a California Cabernet Sauvignon.
Instead of classifying every orange wine together, it's becoming more and more crucial for restaurants and retailers to start showing those variations when presenting the wines to customers.
Woolf explains in his book, "Since orange wine is as broad a category as white, red, or rosé, it needs to be treated in the same way". "Look at the same variables you'd normally invoke: country, grape variety, producer, price point, vintage, and so on. You can apply all the same rules to any other wine."
[[relatedPurchasesItems-44]]
Bars and restaurants can sort their orange wines by sparkling, lighter-bodied, medium-bodied, and full-bodied on their wine menu so that the guests can choose the wine they want to drink. They can also pair the wines with the food served in the bar and restaurant.
The benefit of this wide choice of orange wines? Sommeliers and buyers can find a style that complements nearly any beverage program. As Woolf says, from the "take-no-prisoners approach" of traditional Georgian orange wines to the "extraordinarily beautiful fruit-forward oranges coming out of Burgenland".
Additionally, he highlights the distinctive qualities of Sauvignon Blanc from regions like Styria or the Loire and the promising growth of emerging hotspots like Slovakia and the Czech Republic.
Given the stylistic variety among orange wines, categorizing them as a group seems to be as accurate as claiming that all Riesling is sweet. Skin-macerated whites should be classed and presented in new ways that highlight their style, variation, and terroir.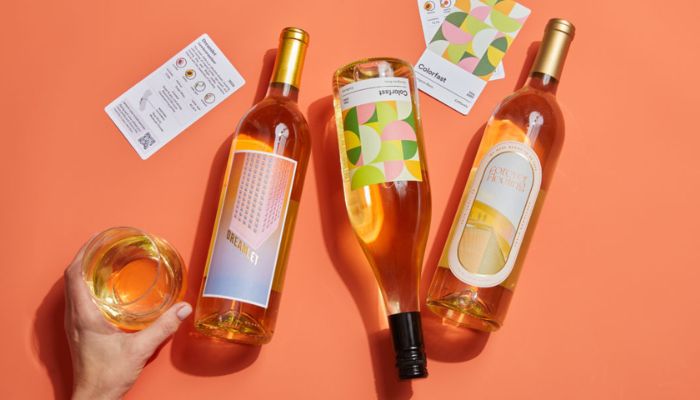 Image Source- Donkey and Goat
How to Enjoy Orange Wine?
Some orange wines have a structure similar to red wine. They make a stunning contender for food pairing when paired with their briny, ripe stone fruit, slightly nutty, and occasionally sherry-like (oxidative) aromas.
You can go for a tin of José Gourmet Small Smoked Sardines, a Prosciutto di San Daniele platter, or a bowl of tortellini en brodo as soon as you open a bottle from Josko Gravner, Paolo Vodopivec, or Dario Prini. You can enjoy it with Rustichella d'Abruzzo Tonnarelli al Nero di Seppia pasta (a squid ink pasta) with a simple garlic white wine sauce.
These wines have undeniable complexity. These traditional methods have served as a source of inspiration for winemakers worldwide, and the various interpretations have produced a wide variety of wines.
Some have exotic, floral aromas, while others are briny, savory, and have a more red wine-like texture than white wine. Some are pale gold, while others are brilliant amber.
Due to its esoteric character and limited production (these wineries aren't producing tons of bottles), orange wine may never have the same cultural impact that rosé had. But many are falling in love with this refreshing but robust wine, with its notes of Asian spice and juicy peaches, at the most avant-garde restaurants of Los Angeles and in cities like New York, San Francisco, Chicago, and Portland, Oregon.
The fun part is that, while orange wine may make for interesting conversation at cocktail parties, no one notices its elegant tasting notes or history behind the wine. People simply enjoy it.
Written By Aparna Dutta, Beverage Trade Network
Enter your brands now and get in front of USA's top buyers. Get your brands rated by Quality, Value and Package.